45 Years Of Changes In Hawaii

By
.(JavaScript must be enabled to view this email address)
Wednesday - February 21, 2007
|
Share

Del.icio.us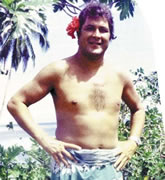 Going native
I've started my 45th year in Hawaii. On my flight here from Louisville, Ky., to take a newspaper job, a seat mate who'd read more than me about the place told me it was important not to carry pork in my car if I drove over the Pali and not stop for any woman in white.
I came down the plane steps (in those days) in a double-breasted suit with vest. Advertiser executive editor Chuck Ware ignored me, went to a guy in jeans and a T-shirt and asked "Are you Bob Jones?" Corrected, he drove me to the Cleghorn walkup apartments on Kuhio Avenue, where owner-manager Anneliese Tatibouet greeted me, shivering in a wool sweater and apologizing that "it's so cold this year." It was about 75 degrees.
Hawaii was magic for me. I quickly shucked my suit. The newspaper's photographers Ishii, Pipi, Take and Jerry taught me that when you sat down to drink Primo at the Times Grill, Kuhio Grill or the then-Japanese-owned bars along Dillingham Boulevard, the sizzling steak, lobster, chicken hekka and fried akule would start piling on your table. That was before our taverns discovered popcorn. That was also when a bar couldn't be called a bar and the Liquor Commission would turn down a Niu application for the name Pig Sty. It became just The Sty. Most bars only had neon signs outside that said "cocktails."
When my car stalled in the rain-floods on Kapiolani and I had to call a woman friend for help, I couldn't figure why she was laughing when I said I was right by a bar called cocktails.
I came at the start of the Democratic revolution when GOPers such as Hebden Porteus, Dorothy Devereux, Eureka Forbes, Joe Garcia and Bob Fukuda were prey in a sea of Democratic predators. It was also when legislators and county supervisors were investors in the huis doing forever-damaging development at the foot of Diamond Head and on our hillsides, and for which they were greasing the permits and obstructing sensible planning.
But we also got memorable social legislation. Mandatory employer-sponsored health insurance and lease-land reform. The Big 5 companies were on the retreat, the ILWU was king and the laughable IMUA radio show was the last gasp of the plantation era.
Life was affordable through the '60s. I wasn't making much but was able to buy my first home, a three-bedroom, lagoon-fronting, two-story townhouse on Koko Isle in Hawaii Kai for $36,000. When I married, we traded up to a house and guest cottage, both fully furnished, on the ocean on a near-acre at Punaluu for $82,000. No financial strain at all.
"Financial strain" are among the most common words in households today. Mortgage strain. Health cost strain. Property taxes. Private school tuition. Utilities. Gasoline. Now that 4.5 percent excise tax on our groceries! Yes, we tax our food. Crazy, ain't it?
Oddly, the most conservative, religious place I'd worked before - Spain - now has same-sex marriage while the most liberal place I've worked - here - does not.
The kindness of strangers hasn't changed all that much in Hawaii. That's still what binds me to this place despite its downsides. I travel more than most and then I miss home, our tradewinds, our clean air, our clean water. OK, so I don't miss our price of a half-gallon of milk or a head of lettuce.
Yes, there are many changes. There were 20 Republicans in the 76-seat Legislature when I came and now there are 13.
The roadway potholes are worse. We are backwoods people with no city curbside recycling. Thank you, Mr. Mayor. And what's up with you (besides naked political ambition) in saying government workers deserve 4 percent a year in raises rather than the 2 percent being offered? Wow, you're some negotiator. Wish I'd had you on my side when I was in the private sector. Hope all property-tax payers are taking note of your largesse
But the Flamingo Kapiolani bar still serves real pupu.
Most Recent Comment(s):