Doing Disney Doesn't Come Cheap

By
.(JavaScript must be enabled to view this email address)
Wednesday - June 29, 2011
|
Share

Del.icio.us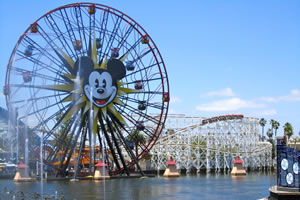 Disney's California Adventure Park is adjacent to the older Disneyland Park
I just did Disneyland, my first visit since 30 years ago when there were 31,000 people in the park any given day. Today, 44,000. In 1981, I paid $10.75 each day for a one-park ticket. Today, it's $76 for Disneyland or California Adventure Park next door; $101 for both.
The Walt Disney Company's revenue last year was $38 billion, with a 17 percent profit rate.
The Paradise Pier Hotel where I stayed seems to be the most utilitarian of the on-property inns. Rack rate on a standard room in summer is $290. Facing our window were billboards for Coppertone and Coke. Disney knows how to enhance revenue.
The Grand California Hotel ($445 rack rate) has the grandest of lobbies plus the exquisite Napa Rose restaurant. If you're lucky you will get chef-sommelier-waiter Michael "Saucy" Cox for your table. He's very unusual! And my wife hates Brussels sprouts but not only partook of my glazed sprouts order but took the extras home for breakfast! Do try the veal stock and portobello (sometimes portabella) mushroom bisque. Duc's Bistro and Le Bistro should offer it.
The park caters to children but takes good care of adults. Order a champagne or wine and they'll fill your glass. No skimping on alcohol.
My favorite rides/attractions in order were Soarin' Over California, Pirates of the Caribbean, the Tiki House, Twilight Zone Tower of Terror, California Screamin', Matterhorn Bobsleds and Disneyland Railroad.
Many websites rave about Autopia, where you drive little cars on a guided track. A waste of time unless you're under 12 years old.
Yes, there have been accidents in the park. A woman was thrown from a Matterhorn sled and died. An Indiana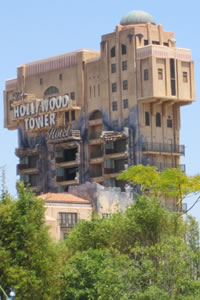 Tower of Terror simuates a 17-story elevator fall after a lightning strike. Photos from Bob Jones
Jones Adventure motion-simulator rider suffered a fatal brain hemorrhage. One was killed and 10 hurt in the derailment of the old Big Thunder Mountain Railroad. Twenty-five were hurt on the California Screamin' roller coaster because of a faulty brake valve that allowed two cars to collide. But my rides seemed very safety oriented.
It's not cheap. For a family of five, it's $505 worth of tickets each day plus food, souvenirs, the hotel, the airfare and $50 round-trip for each checked bag. Think about skipping a rental car from LAX (no direct Orange County flights since Aloha folded) and taking the Disneyland Express bus.
Then you have the crowds, and the wait lines. But, truth be told, I enjoyed it. I don't think I'd do it again. Crowds and I don't mix well.

Some Americans went ballistic June 19 when NBC Sports edited out the words "under God" in the Pledge of Allegiance during a patriotic TV preview of the U.S. Open. Why that was dropped is unclear.
The Pledge started in 1924 in schools. There was no "under God" for 30 years until Congress added those during our big communism scare. The add-on was declared unconstitutional by the 9th Circuit Court of Appeals. The Supreme Court overturned that, but only because the man who sued did not have standing as plaintiff for his young daughter because he did not have custody of the child.
Those who agree it's unconstitutional and an insult to non-believers just go silent for that two-word interlude.
Most Recent Comment(s):