Odd Couple: Hamamoto, Saint Louis

By
.(JavaScript must be enabled to view this email address)
Wednesday - February 24, 2010
|
Share

Del.icio.us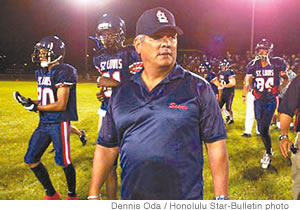 Cal Lee during the Saint Louis glory days
Pat Hamamoto as public schools superintendent wasn't up to winning the wrestling matches with unhappy parents, the teachers' and principals' unions, and confronting a Mad Hatter gathering of Board of Education members elected by voters wearing blindfolds in the ballot booths.
Can she do the job at the "mensy" Saint Louis School with its Who's Who of famous male trustees and a culture that's frequently seemed to promote ILH athletic wins over the scholastic reputation of an Iolani or Punahou?
Saint Louis is the school that promoted win-at-all-costs Cal Lee and inherited that boozy incident in Las Vegas some years ago. The football team was drinking. Lee admitted he left his hotel room at 2:30 a.m., went to the Strip and got back just as the team bus was leaving for the airport at 6 a.m. - unshaven and unwashed. He's coaching at UH now.
Two years ago, Saint Louis jocks were arrested in an egg-throwing, car-crash incident in Lanikai.
Not to say Saint Louis students are any more rambunctious than teens at other schools. Just that there's been a certain macho culture there. So maybe Hamamoto means a big culture change.
I do want to leave her with my thoughts about the public school system on which she failed to impose her will and vision and left most people perceiving it as a failed bureaucracy.
It's tough to argue against the validity of charter schools, which allow parents to set up the kind of school they want for their children and get a public subsidy roughly equal to what would be spent on a child in a standard public school.
If something works and students seem to perform better, we should be doing that. If, for instance, converting Laupahoehoe Elementary and High to the new charter school props up local enrollment and delivers test results - good. But I'd stand ready to quickly pull the plug if any charter doesn't outperform.
At heart, I'm a public school supporter. I feel there's a kind of egalitarian process going on in public schools. But I was persuaded to send my daughter to a private school. Why? A sense that it offered every opportunity, every course, and a kid gets just one shot at a super education. Why take a chance?
Also, there's the union thing. With HSTA's clout, it's tough for a public school to dump an under-performing teacher, and tough for those HGEA-unionized principals to run a public school with sufficient management clout. Parents seem increasingly troubled about where the teachers' union is headed, and those, like me, without school-age children are concerned, too.
I've found no universal school fixes, just adjustments that often work on one level but subtract something on another. It's a balancing act in which we're trying to maintain our balance - like a high-wire walk. Constant adjustment.
We had much too much kissy-face between Hamamoto and a Board of Education with too little to offer. We ought to start next year by allowing the governor to appoint the board from vetted candidates with high qualifications and make the superintendent job a cabinet position. But keep the statewide school board rather than county-by-county boards.
Be very ready to scrap charter schools if they become just eye candy. Don't even consider vouchers. Keep the pressure on teachers to know the subjects they teach or to move aside. Don't roll over and play dead for the unions.
Those are good balance moves. And start a national search for a great superintendent. Do not just go with No. 2 on the coaching staff.

What's so difficult about an ordinance to keep squatters off city property?
No camping and/or overnight use is permitted on any City & County property except where so designated and by permit. No tents or other structures are permitted in areas not designated for camping and/or overnight use, except for a single pole umbrella, one per person, the fabric area not to exceed 20 square feet. Unauthorized tents or structures shall be confiscated and a fine of not more than $25 imposed per infraction.
Even Rod Tam could draft that one!
Most Recent Comment(s):