Security Cams Don't Hurt Privacy

By
.(JavaScript must be enabled to view this email address)
Wednesday - June 09, 2010
|
Share

Del.icio.us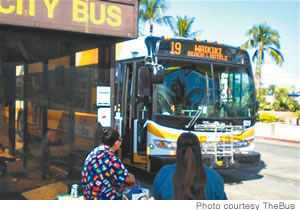 Security cameras will help protect passengers and drivers
TheBus wants to install security cameras.
Teamsters Local 996 is complaining that "you can't look over the shoulders of our drivers!" Lucky somebody was watching that No. 1 bus driver with the Sunday funnies spread on the steering wheel so he could read them while driving through Kaimuki. Lucky somebody filmed that drunk bus driver on the Windward run.
The cost of bus surveillance aside, let's talk the privacy issue.
We have surveillance cameras in Chinatown, Waikiki and Wahiawa. Times Square in New York City is filled with surveil-lance cameras. One caught the wrong guy changing his shirt and none caught the guy parking the bomb car.
Britain has surveillance cameras just about everywhere, and Wall Street Journal columnist Peggy Noonan went all wiggy about the lack of privacy.
I don't expect much privacy except when I go to the bathroom. And that's not always sacrosanct. Some public men's rooms have one-way mirrors so security people can watch for hanky-panky. And it's hard for me to argue for privacy after 50-some years of arguing as a journalist for maximum transparency. My sense is that every time I leave my house I'm fair game.
Noonan says, "When we lose our privacy, we lose some of our humanity; we lose things that are particular to us, that make us separate and distinctive as souls, as, actually, children of God."
Wow! Children of God! And I was only thinking about somebody seeing me in a cheap pair of shorts and T-shirt. Mostly I'm only espied that way by the guys who collect garbage at the end of my driveway when I'm collecting the newspapers.
I know that politicians feel they no longer have any privacy, but that's the way it should have been way back before we had today's technology. Consider that dude running for the Senate in Connecticut who said he was in the Marines in Vietnam and turned out to actually have had five deferments and then a tour with the Reserves in D.C. The New York Times broke through his privacy.
I don't miss privacy at all because just about everything I do is OK for the rest of you to know about (well, OK, maybe a couple of things I'd keep private!).
To be on the safe side, I'm going to stop going down to pick up the newspaper in the morning in my boxer underwear just in case Google Street View is driving by. The garbage guys don't care. They cheerfully yell out "How's it going, Mr. Jones?"

This isn't about privacy. It's about nuisance. I think three calls to my home on a single Sunday by SMS Research doing political polling is a bit more than I can be expected to reasonably tolerate.

It's my longtime opinion that Pho South King on (where else?) South King Street makes the best pho in town. Owner Kim Nguyen is opening a second place in Westgate Shopping Center called (what else?) Pho Waipahu.
Oh, you lucky Waipahuans!
Most Recent Comment(s):