A Bad Baby Bill, Our Mill Heritage

By
.(JavaScript must be enabled to view this email address)
Wednesday - June 20, 2007
|
Share

Del.icio.us
Yes, you could expect me to be an enthusiastic Safe Baby Haven promoter since I'm an ardent Planned Parenthood guy.
Nope, I'm pretty cool to the proposal Gov. Lingle vetoed last time it came up - and has until next Monday to veto again. It would decriminalize abandoning a baby in its first 72 hours of life if the infant is left at a hospital, police or fire station.
My reservation: Do we want to engrave into law that it's OK for a mom or dad to abandon their newborn so long as they do so on the right doorsteps?
Sure, I'd rather have that than abandonment in a dumpster, but I'd also prefer case-by-case decisions on prosecution. Why make abandonment seem so OK?
I won't go to bed unhappy if the governor vetoes HB1830.

Kewalo Basin is terribly underused as a fishing port, charter boat and ocean excursion center.
What I'd hope the Hawaii Community Development Authority sees when it takes over in September is a premier site for evening strolls and outdoor restaurants, similar to Greek harbors.
Boating and the evening events are not incompatible. They can go hand-in-hand. The fishing charters during daylight and sidewalk cafes and strollers in the evening.
I'm not going to get into the Kewalo boat-space leasing-fee argument. That's something to be worked out as state policy.
But high priority should be considered for an around-Kewalo walkway wide enough to handle a throng of evening strollers and indoor/outdoor, fish-oriented eateries. How can we be a warm-all-year place on the water and not have that?

A dormant passion of mine erupted anew because of something I saw on a visit to Park Hills, Mo.
Southeastern Missouri is lead mining country. But mines poop out and you're left with dead caverns and factories.
That was Park Hills. A worn-out mine and rusting factory. The owners thought there should be some kind of record of what was done there over the past 70 years, so they deeded it all to the Missouri State Parks Department, which raised money for a museum preserving all the machinery and photos of lead mining. Next step is to open the old factory to tours. Next door Bonne Terre has a mine open to tours.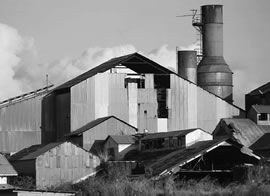 The old Koloa Mill on Kauai should be preserved as
living history
It's called "industrial archaeology," and I say we should be preserving Koloa Mill on Kauai as living history of the first sugar operation in Hawaii. How can we, whose modern history is sugar, not have a sugar museum as a prime tourist attraction?
Kiersten Faulkner of the Historic Hawaii Foundation wrote recently about a state Senate resolution to protect our historic sites. But most preservation just looks at old town buildings - the Hawaii Theatre or that Kohala Pilgrim Church that was bulldozed.
What about our industrial heritage? The factories and machinery that changed our history? How can we be Hawaii and not have a museum showing sugar moved from the fields, pressed, cooked into molasses and refined into the valuable stuff?
I appeal to HHF, the Society for Industrial Architecture and the people in the industrial architecture master's and Ph.D. programs at trendsetting Michigan Tech University to not let Koloa Mill be lost to history. That should be unacceptable to all of us.

The Honolulu Advertiser broke the story of the alleged extortion of Gov. Lingle's chief of staff Bob Awana, but then fumbled the ball or intentionally turned it over. No follow-up.
KITV News picked up the loose ball and ran several nights with juicy allegations of an Awana mistress and Philippine playmates sought for men who traveled to Manila with the governor's entourage.
This, of course, has potential to unravel Lingle's final years, her political future, and that of Lt. Gov. Aiona. And then there's Bob Awana. Victim or bad guy?
Most Recent Comment(s):