A Brief History Of Palaka Clothing

By
.(JavaScript must be enabled to view this email address)
Wednesday - August 05, 2009
|
Share

Del.icio.us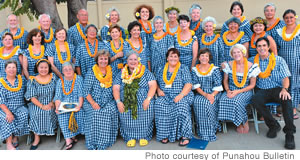 Punahou's Alumni Chorus goes palaka
I'm gonna get killed for this one, but here goes ...
I went to my wife's 50th Punahou School reunion this year and someone came up to me and said "Hey, Bob, you should do a column on the Punahou Alumni Chorus wearing palaka."
Heh? So what? Plenty people wear palaka, that cotton, checkered pattern in blue-and-white or redand-white. So what's the problem?
"Don't you see?" she said, "it's the old plantation wear. Workers' wear. Connected to the Democrats."
Yes, I guess palaka is old plantation workers' wear. And it's true that when the John Waihee Democrats were organizing to take Washington Place they boasted of "Palaka Power." But at Punahou? Am I missing something very subtle?
I only saw that the muumuus were horribly shapeless and made the women look fat, and the (few) men who tucked their shirts into their pants.
The original palaka was only in blue and white, and yes, it was the cloth pattern worn by Japanese immigrant sugar workers. It came from England and may have been worn by non-military sailors there. And probably was brought here in the course of trade as a frock, much the way denim was brought in for today's general wear by workers.
Peter Young Kaeo, an inmate of the Kalaupapa leprosy settlement, reported in a letter to his cousin Queen Emma in 1873 that he had visited the settlement store and bought several yards of cotton twill "to make me some frocks palaka." It's the first known use of the word palaka to describe that style of cloth. Plantation workers started wearing palaka, but never tucked into their pants!
Post World War II, palaka came into demand by tourists. Why? I haven't a clue. I suspect it was associated with what people (tourists) thought was the cloth regularly worn by sugar harvesters. That was not true. But some movies showed Hawaiian people in blue-and-white palaka and that quickly caught on.
Arakawa's in Waipahu would become the best-known palaka-selling store here.
I'd have picked something more striking for the Punahou Alumni Chorus, but palaka is no more a reflection of a certain time or politics than is wearing slippahs or some kind of woven hat. Or my Barefoot League T-shirt.
Hey, if the chorus has been in red palaka, would that have been sending a message to those who vote blue? Nope. Just a less-than-snazzy fashion statement.
Of course, this column is written by a guy who mostly "fashions" himself at Ross Dress For Less.

I'm taking a small group of Punahou '59ers into Vietnam, Laos and Cambodia in January on the cheap as my last act as a tour leader to Southeast Asia. Others are welcome to claim the vacant seats. E-mail me for details.

If I were on the panel picking our new police chief, my first question to candidates would be:
Will you end our antiquated system of closing main roads for hours while investigating fatal crashes? Photograph and measure the scene, move the victims and vehicles off to the side and get traffic moving.
Most Recent Comment(s):