A Chinese Deal For Moped Man

By
.(JavaScript must be enabled to view this email address)
Wednesday - August 01, 2007
|
Share

Del.icio.us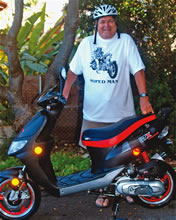 Bob and his $1, 100 GTX TurboCam: Chinese is cheaper
I'm back on a moped, even though I've been the victim of moped theft three times.
But this story is much more than that. I'm on a Chinese moped. Chinese, as in bad-products publicity. Why? Price. Mopeds Direct was selling the GTX TurboCam for $1,100. Mopeds Plus had the Vento USA Triton for $1,500. QuikFix Cycles had Taiwan's Sym for $1,600 and Cycle City offered the Schwinn Sport for $1,995.
I go where I can get the best price with quality assurance. It's tough to turn your back on China's pricing even though you know about toxic pet food, baby food and medicines, and contaminated paint and toothpaste. And GTX importer Joe Shimkonis says there's been only a 1 percent motor failure rate on his machines.
Generally,'tis true, China stuff ain't on a roll.
A recent inspection of China factories found formaldehyde, illegal dyes and industrial wax being used in candy, pickles, crackers and seafood. There's been a made-in-China tire recall because of faulty gum strips.
There's a Chinese pharmaceutical company, American Oriental Bioengineering, that has itself listed on the New York Stock Exchange by way of a reverse merger and has a secondary public offering of stock. It's marketing an anti-bed-wetting product said to contain "radioactive photons" to do the work. And a tumor-reducing peptide powder from "patent technology from the University of California, Berkeley."
The bed-wetting-stopper was tested at a lab and it contains no radioactive product. Also, UC-Berkeley says it has never licensed anything to the company.
The Chinese have become real weasels in their export business and their government hasn't done much to stop that. You cannot trace all products back to their China origins. Many items assembled in the USA might have parts or ingredients from China and nothing on the label says that. Energy bars, apple juice and vitamins frequently originate as China product.
Almost every firecracker set off this past Fourth of July in America started in a powder factory in Liuyang.
It's as hard to avoid "made in China" as it was to avoid "made in Japan" in an earlier age. I got some New Balance walking shoes by mail-order from Haband, an 82-year-old American company now run by a private equity firm. Yep, the shoes are made in China.
Back to my moped. It's very cheap, very fast, uses just drops of gasoline and has a one-year warranty.
So the only downside seems to be in those potholes, steel plates, ruts and raised or sunken manhole covers of Honolulu's horrific streets. My daughter has much smoother going on her moped in Hanoi.
Honk when you spot me in my MidWeek or Moped Man T-shirts, but give me some space.
Most Recent Comment(s):