A Lifetime Adventure With China

By
.(JavaScript must be enabled to view this email address)
Wednesday - December 09, 2009
|
Share

Del.icio.us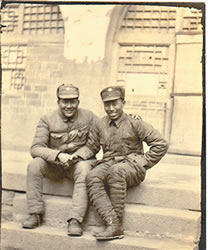 Chun (left) with Red Army Gen. Wang Zhen in 1939
The Dr. Sun Yat-sen Hawaii Foundation had decided to give Walter Chee Kwon Chun, 98, and his wife, Sau "Junni" Chun, 94, of Makiki its Lifetime Achievement Award at the Pacific Club this Friday for promoting friendship with China.
Suddenly, last week, Walter's health took a dramatic turn for the worse. As this column goes to press, it's touch and go.
There's a great background story about Walter, and I'm trying to will him to live long enough to take the award in his hands.
He paid a social price for his years of promoting China friendship in the "Red Menace" years. It was circumstance that bound Walter to China. His dad was a Windward Oahu rice farmer. But his sister married the son of Sun Yat-sen here, and that son took Walter to China to be his English adviser to the parliament of Nanjing. Walter left China to study at UC-Berkeley, where Edgar Snow's book Red Star Over China persuaded him to return and meet the communists who were fighting the old order.
Walter went to the Mao/Li Ping headquarters at Yana'an and joined the 8th Route Army on its front lines, sometimes in uniform but never as a fighting soldier. He says he wanted to fight but Mao's people told him to go back to the Kuomintang side and tell people about the communist cause. He was given a succession of good jobs in the Chiang Kai-shek government because of his Sun Yatsen connection.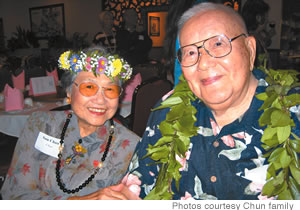 Walter Chun and wife Junni
He returned to Honolulu when the final fighting came in 1947, married Sau, a McKinley High School teacher, in 1950, and they moved back to China eight days later to work with the new communist leaders, and later do banking in Hong Kong.
So about the price he and wife paid.
When he returned to Hawaii, many friends began dropping out. Walter was too close to the communists. We were in our Cold War period after the Korean War and Walter was regarded as a "fellow traveler." That was the kindest of cuts. To others he was flat-out a communist sympathizer. We were in that ILWU-is-communist-and-loves-Mao-and-Stalin mode.
Walter and Sau had two children born in China. Son Ping would die in a 1979 plane crash. Daughter Yen would inherit her father's lucrative China business. Why so lucrative? Here's the rest of the story.
When President Nixon broke through our wall with China in 1972, Walter was uniquely positioned to help American businesses such as Occidental Petroleum and Hughes Tool get in. Later, many Fortune 500 companies wanted Chun's help.
Did Walter cross the line in cozying up to Mao's communists? He and I have had many conversations but I've never known his politics because he was very old when we met. I don't know where Walter's loyalties were, and I think neither did he. He was just in the middle of an adventure.
Today, we just say China, not Red China. Gov. Lingle was there last month promoting Hawaii tourism.
Bigwigs now sing Chun's praises and nobody calls him a fellow traveler. They say what a smart businessman he's been.
Most Recent Comment(s):