A Nuts Way To Choose Presidents

By
.(JavaScript must be enabled to view this email address)
Wednesday - March 28, 2007
|
Share

Del.icio.us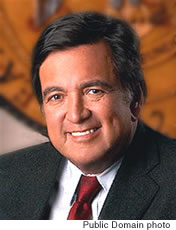 Gov. Bill Richardson
The way we select our favorite presidential candidate is amusing - but nuts.
A recent poll found that only one-third of Americans of voting age look first to candidates' stances on issues; even fewer care about leadership traits, experience or intelligence. They look at "character values."
In his 2005 book The Broker, John Grisham has the CIA director think this about the White House occupant: "Only in America could a moron like you make it to the top." (By coincidence or not, it was published as George W. Bush began his second term.)
We've had a run of governors with no experience in foreign policy - Reagan of California, Carter of Georgia, Clinton of Arkansas and Bush of Texas.
Senators who do have foreign policy experience haven't fared well. Dole, Gore and Kerry being most recent.
This year we have Sens. Clinton, Obama, Biden and McCain out front, plus former governor Romney, former mayor Giuliani, and former senator Edwards.
Some liberal friends ask: "You'll be voting for the first woman president, won't you?" Or "You'll be voting for the first black president, won't you?"
I'll be voting for the person it makes most sense to have as president because of that candidate's smarts, experience, vision and harmony with my beliefs. Not by gender or skin color.
The my-beliefs thing drops John McCain off my radar right away.
But why isn't there any groundswell for Gov. Bill Richardson of New Mexico?
He hasn't dropped off anyone's radar because so far he hasn't flown high enough to get on radar. Yet he would seem to be the candidate who has it all. He's been in Congress. He's been energy secretary. He's been our ambassador to the United Nations. He's in his second term as the popular governor of New Mexico. He's Hispanic in a country rapidly moving in that ethnic direction.
So why is every day's newspaper and television coverage about Hillary Clinton and the no-experience guy from Illinois just barely into his first term as a U.S. senator?
Well, because, as you know from the Anna Nicole Smith saga, we're a people into celebrity. People are saying Al Gore's no longer a celebrity because of his new waist measurement.
Rudy Giuliani gets more attention than Bill Richardson despite his two very messy divorces.
Mitt Romney seems to be the GOP insiders' favorite, but he's a Mormon - still big baggage in American politics - and he's had to dance to the conservative side of the ballroom nimbly while explaining his liberal positions as the one-term governor of liberal Massachusetts.
Hillary Clinton is the Democratic insiders'favorite, but also is the favorite punching bag of the red states and lots of Independents.
If you scratch all those with heavy baggage and those not carrying any baggage for lack of experience, that would seem to leave Richardson.
He has to find a way to make himself heard over the Clinton-Obama-Edwards-McCainGiuliana-Romney noise machines.

I'm going to appoint myself public-editor-for-a-day on a recent Advertiser story.
The paper was hornswoggled by the attorney for Gerald and Joreen Pa'akaula. They're the people involved in the beating of an Army couple that dinged their car while parking at the Waikele Shopping Center.
The Pa'akaulas got front-page coverage to say they are lovable, church-going people who are praying for the victims. Gerald Pa'akaula's previous beating conviction is buried in the story.
I don't mind their side of the story, but that they are going to church to pray as a four-column, lead-item, Page 1 headline?
Bad, tabloid-like decision.

Lots of noise out there about Senate Judiciary Committee chairman Clayton Hee's effort to obstruct the nomination of Glenn Kim to the Circuit Court. But no newspaper has tackled the question I asked two weeks ago:
Why appoint someone rated only "qualified" rather than "highly qualified" by the Bar Association? "Qualified" just tells me that he's a lawyer, a resident and doesn't have a criminal record.
Most Recent Comment(s):