A Problem With Red-light Cameras

By
.(JavaScript must be enabled to view this email address)
Wednesday - April 08, 2009
|
Share

Del.icio.us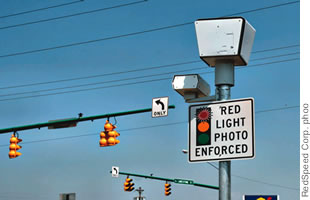 A red-light camera in Ohio: a legal loophole
Let's talk about red-light-runner cameras, the food we eat and the Three Mile Island nuclear plant accident.
Yes, I get mad every time I see a car (city buses, too) entering an intersection at high speed as the yellow light is turning red. So why am I content to see state Rep. Joe Souki's red-light-camera bill die in the Legislature?
It's an expense up front when we don't need one. It has a legal flaw in that if the camera can't clearly show the driver, the car owner can say it wasn't him or her. Up to the prosecutor to show otherwise. And as dangerous as that gun-andgo is, there's no evidence of lots of crashes. It takes some time for us to accelerate or walk into that intersection when we get the green.
I liked the van-cams. Why? Because speeding does cause lots of crashes. But I'd set the trigger at 15 mph over the limit and write the law to outlaw license-plate "shielding" (California has that) and to make the registered owner of the vehicle responsible for infractions unless he can bring to court somebody else who admits culpability.

And now about the food we grow - or don't grow - and eat - or don't eat.
I agree that we should be eating more local-grown food.
What I buy at the KCC Farmers' Market every Saturday cannot be beaten for freshness and taste. My Nalo Farms baby romaine or Big Wave tomatoes last two weeks. And I'm putting money into local hands.
Gov. Lingle directed that our government agencies buy more local food, but the Land Use Commission is working toward disrupting Aloun Farms in Ewa for a housing development on Campbell Estate land. So that lease to farmers was just a land-banking way to keep the water rights for eventual housing.
And the price of land has become so high that the Farm Bureau's Dean Okimoto points out: Who can possibly afford to buy more of it? So if we want to eat local, we need to reward farming and penalize development that intrudes on farmable land.
Some people say "only eat organic." Organic's no better for our nutrition (many studies on that), but it's better for our land not to infuse it with fertilizers. However, if you're buying at a local supermarket, plenty of the organic product comes from outside Hawaii - way outside, as in Chile. Or from Mainland industrial farms.
We also should ignore the no-genetically-modified-crops folks. Insect and disease resistant crops mean more local crops to market and there is zero evidence that GMO has any adverse effect on our health.

I don't know where urban myths start but I know how they spread: on the Internet.
A current one making the rounds is that people are dying or getting ill left and right from that Three Mile Island nuclear plant accident in Pennsylvania 30 years ago.
The final report said less than one millirem was released outside. Like one-fifth of one chest X-ray's worth of exposure, or one year of watching TV. The maximum dose to a person on the site that day would have been 100 millirem. That's identical to the normal background radiation in Middletown.
Studies by many agencies concluded that "there will either be no case of cancer or the number of cases will be so small that it will never be possible to detect them."
No matter, an Internet posting is going around now saying "People died - and are still dying - at Three Mile Island" (Huffington Post, March 26).
Nobody died. But conspiracy theory abounds these days. And e-mail spreads it like a brush fire.
It's rubbish! Why do friends ask me: "Is this right?"
Don't they know it's not?

My boo-boo in last week's column. The governor appoints for vacated U.S. Senate seats, but there must be a special election to fill U.S. Rep. Neil Abercrombie's seat, presuming he vacates it well before the 2010 primary election.
Most Recent Comment(s):