A U.S. History Of Provoking Wars

By
.(JavaScript must be enabled to view this email address)
Wednesday - December 03, 2008
|
Share

Del.icio.us
I've never believed those conspiracy wackos who say we knew the Dec. 7, 1941, Pearl Harbor attack was coming and let it happen. No sane president or his military advisers would intentionally allow such loss of American lives, ships and planes.
But there's ample evidence to blame our side over the start of the Korean War, the Vietnam War, the Iraq War and the Georgia-Russia thing. Enough that we should take with a grain of salt claims that Iran is militarily provocative and should be hit. We have been provocateurs, too.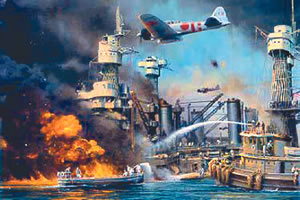 A painting of Dec. 7, 1941, owned by the Pearl Harbor Association
The late I.F. Stone's book The Hidden History of the Korean War made a good case that we lured North Korea into attacking the South.
The Truman Doctrine in June of 1950 was that Korea was not in our defense perimeter and we'd not fight there, and we'd also not intervene in any conflict between China and Taiwan (Formosa). Republicans in Congress wanted to change that. Two days after the North crossed the 38th parallel, Truman did change it. There's also evidence that the South did some border crossing first to draw in the North.
Consider this: how would the North have massed 70,000 men and 70 tanks without anybody noticing? Stone said we thought the South had the best army in Asia, could defeat the North, we'd make noise about our atomic bombs (used five years earlier on Japan) and send a message to China about laying off Taiwan. As Texas Sen. John Connally said just before that war: "A lot of them (Congress) believe that events will transpire which will present the incident which will make us fight. That's what a lot of them are saying: 'We've ot to battle [communism] some time, why not now?'"
We know where that one went. Still no peace treaty and still a threat from the North.
Vietnam, 1955. That one could have been settled had the South and the U.S. held the June nationwide elections they'd agreed to in Geneva. They refused because they sensed the North might win. America began funneling military aid to the Saigon government, daring Hanoi to bring it on. It did and we know where that one went.
Iraq has been so thoroughly analyzed that no one should doubt we used a bag of lies to start a war we hoped would leave us with military bases there in perpetuity to confront Iran, Syria and the Palestinians. We know where that one has gone and is still going.
Now to the Georgia-Russia tussle. The latest evidence gathered by the New York Times indicates that our ally Georgia started it with artillery barrages into ethnic-Russian areas of its South Ossetia enclave. Georgia's president thought America would huff and puff if Russia fired back.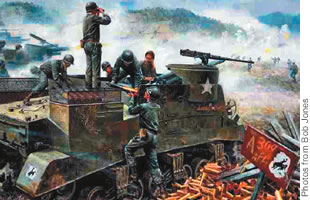 Delaware National Guard in action in Korea in 1952, from the Delaware National Guard
Russia not only fired back, it rolled into Georgia proper. We huffed a little about "excessive force" but never puffed as in military help. No sanctions against Russia. My read is that hawks in Washington misinformed Georgia's president that candidate John McCain would whip up major anti-Russia anger in this country. He didn't. Barack Obama didn't. George Bush didn't. Congress didn't. The Georgian president was beaten, humiliated and learned a hard lesson about America's waffling foreign policy of the final Bush months. He should have studied some of our history.
So that's my history lesson for this Pearl Harbor Memorial week.
Maybe it's a good one for a research project by some of our high school social studies students.
It's best to know more than what the government tells you.

When I recently mentioned John McCain's "stupid flying" some thought I was referring to what happened on the carrier Forrestal (his plane destroyed by an accidental missile discharge from another plane on the deck) and being shot down over Hanoi.
Not. It was about missing the runway at Corpus Christi in 1958 and landing in the bay, and when he did some low flying over the Iberian Peninsula and hit power lines.
Most Recent Comment(s):