AG Steps In At Diamond Head

By
.(JavaScript must be enabled to view this email address)
Wednesday - December 14, 2011
|
Share

Del.icio.us
Well, here we go again with the Diamond Head Crater scammers.
This time it's Jahav Balaji and Dipak Sarkar handing out those "I Climbed Diamond Head" certificates in exchange for a "donation."
And this time, with a twist. Balaji and Sarkar, who list an address in Waialua as home, managed to get a parks (DLNR) permit by showing some incorporation papers for a nonprofit called the "Sri Gaur Nitai Society." That entitled them to set up a table at the crater's trailhead and ask for "donations."
But they've run afoul of the state Attorney General's office. They did not register their nonprofit. So the AG has issued a cease-anddesist order, alleging deception because the certificates the two are issuing for "donations" say the money goes to the Diamond Head Preservation Society. There is no such group.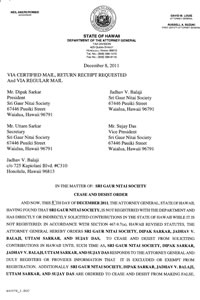 The AG's office issued this cease and desist order last Thursday
Sarkar, records examined by MidWeek show, has set up 19 other alleged nonprofits over the years in Ohio, Wisconsin and Georgia. Their names include City of Refuge Inc., Truth Deliverance Ministries and the Jesus International Foundation.
So far, neither the AG's office nor the parks division has moved against T-shirt seller Chris Barclay or commercial hike solicitor Mitch Berger, who operate in the crater and claim a First Amendment right although neither man operates under the First Amendment sign erected to allow free speech or handing out non-commercial fliers. Barclay works the trail. Berger works the summit.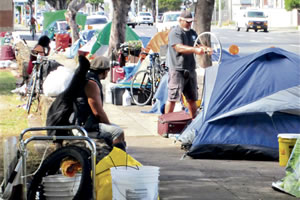 Nice place for a stroll, eh?
We owe thanks to supervising deputy AG Hugh Jones (no relation) who has been diligently pursuing the scammers. A previous order banned Randolph Frost and Puri Das from soliciting for those same "preservation society" certificates.

I do hope the new City Act 54 will energize our mayor to get those chronic homeless off the sidewalks and out of the parks. The bill also applies to those Occupy Honolulu folks trying to set up a permanent encampment at Thomas Square.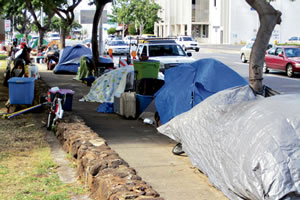 Homeless tents on King Street. Photos from Bob Jones
The last straw for many of us was the recent removal of that encampment on the Old Stadium Park sidewalk, power-washing their crap (some of it literal) and then watching the tenters move back in the next morning.
I'm not suggesting we pepper spray the campers. I am re-suggesting that we have a safe haven tent site somewhere. Then you can with good conscience tear down and confiscate tents and belongings on sidewalks and in parks and on beaches. Where to put the safe haven? It must be near services, and so I suggest Aala Park (which doesn't have much public use anyway) or the nearby old Oahu Railway property.
Not easy in these money-short times. But the alternative isn't working. We're just chasing the hard-core alleged "homeless" from one site to another.
Most Recent Comment(s):