Anticipating A Return To Vietnam

By
.(JavaScript must be enabled to view this email address)
Wednesday - January 13, 2010
|
Share

Del.icio.us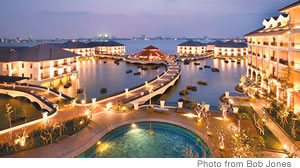 The new Inter-Continental Hotel on West Lake in Hanoi
Editor's note: For a rather different take on Vietnam, see Jerry Coffee's column on page 10.
As most of you read this, I will have just landed in Hanoi, the capital of Vietnam, to lead a group of Hawaii people on an introduction to this complex country that's so much a part of recent American history.
We call it the Vietnam War. They call it the American War. We lost more than 58,000 troops there. They lost between 1 million and 2 million soldiers and civilians, and the North suffered great deprivation among civilians toward the end.
About 400,000 Americans visited Vietnam last year. It's relatively cheap. It's exotic. There's no hangup on the part of the Viets about the war. Ho Chi Minh told them most Americans didn't want to fight Vietnamese; Washington made them do it.
I lived and worked there for three years of the war as a newspaper reporter and then an NBC News correspondent (http://www.youtube.com/watch? v=F66SeCXIt7E), did an Emmy-winning documentary after the war and took in tour groups. My daughter Brett was born there in 1973 and has long worked there with USAID and the World Bank.
I love the place despite the crowding of 86 million people in a country the size of New Mexico, horrendous traffic and a stifling, undemocratic governance. I always visit my very-aged housekeeper from my days there and give her money.
I always take visitors to see Hoa Lo prison, which the French called the "Maison Centrale" and American POWs knew as the "Hanoi Hilton." (There's a real Hilton in Hanoi now.) I have to
caution them because the guides tell how horrible the French treated them but how wonderfully the Vietnamese guards treated the Americans. They show photos of smiling Americans playing guitar and eating chicken. They show you then-pilot John McCain's flight suit. (I don't know why he hasn't asked to have it back.) Many former POWs come back to visit.
Not my MidWeek colleague Jerry Coffee. He spent seven years and nine days there and, if you read his book Beyond Survival, you probably can understand that he doesn't need some guide telling him how well he was treated!
But then again, our first ambassador to Hanoi was a mistreated former POW, Pete Peterson. He did seven years in four prisons, including the "Hilton."
We now do big business with Vietnam, and the Sunday brunch at the Metropole Hotel costs $35. Vietnamese men buy their girlfriends $12 drinks atop the Caravelle Hotel. I know local residents who fled in 1975 and are planning to go back to live there. One prominent Viet businessman here tells me his colleagues who stayed on are making more money in Saigon than he does in Honolulu.
Cars have replaced bikes in Hanoi. The old streetcars are long gone. Gleaming hotels are built right out into gorgeous West Lake. Planning is non-existent. Corruption is rampant. So is pollution and ugliness.
It's going to be a major eye-opener for my group.
Maybe for me, too. The place changes dramatically every year.
Most Recent Comment(s):