'Basterds,' Park Names And Frogs

By
.(JavaScript must be enabled to view this email address)
Wednesday - September 02, 2009
|
Share

Del.icio.us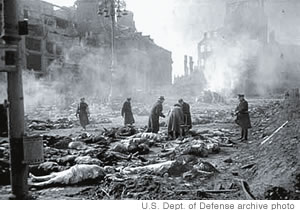 The aftermath of the World War II bombing of Dresden
The current movie Inglourious Basterds (and, yes, that is the spelling) is fomenting much editorial comment about revenge, Jewish religious law, scalping and beating people's heads to mush with a baseball bat.
I always say a movie's a movie, and I make fun of my wife hiding her eyes at the scary or brutal parts. "Hey, they're actors with lights and cameras on a stage set," I say. No matter. She hides her eyes.
This movie's truly only a movie because no such "Dirty Eight" group existed in World War II to go behind German lines in France and kill Nazis and scalp them. Hitler wasn't killed in a French movie theater and nobody would have ever put Adolf, Hermann Goering, Heinrich Himmler and Joseph Goebbels at the same social event where they could all be killed at one swoop.
But these fantasies aside, I guess it makes you deal with your feelings about revenge and retribution. The fallout from the movie raises those other issues: fire-bombing Dresden and Tokyo, and dropping Little Boy and Fat Boy on Hiroshima and Nagasaki.
I'm by nature a kind and compassionate man, but I've never had a moment's misgiving about all those civilians who died in Dresden, Tokyo, Hiroshima and Nagasaki. Hitler blitzed London. Tojo hit Pearl Harbor, Hickam, Schofield, Kaneohe and the Philippines. In war, the idea is to get the other guy to cry uncle. If he does, the war's over faster. Fewer of your people die.
So I'd never have lost 10 minutes' sleep over our decisions to bomb cities during WWII. But I'm horrified by documents showing that our Strategic Air Command general, Curtis LeMay, wanted to lower the atomic boom on the Russians during the 1962 Cuban missile crisis, which ended peacefully.
Inglourious Basterds feeds our ingrained sense of an eye for an eye. It's why audiences clap when the major Nazis die at the end. We like eye-for-eye. We forget that Matthew 5:38 also said "tooth for a tooth." Does that mean take the guy's eye, or just his tooth sometimes, or both all of the time?

All those who plan to call Triangle (aka Ruger) Park in Kahala "Operation Red Wings Medal of Honor Park" raise your hands. Ah, just as I thought. No hands.
The renaming honors Hawaii-based (no native sons) SEALS killed in Afghanistan. Citizens out Pearl Harbor way rejected renaming Blaisdell Park for them, so City Councilman Charles Djou flogged the name off on far away Kahala, where Red Wings are known as darn good shoes made in Minnesota.

MidWeek columnist Jerry Coffee (Aug. 19) obviously has never cooked live frog. He says if you plop them in hot water they'll jump out of the pot. Gradually heat them and they'll braise compliant-ly.
Old wives tale, Jerry. A 1995 Harvard study showed that if you put a frog in a pot of hot water it dies. Put it in cold water and it will jump out before the water gets too hot.
I offer Jerry my yum whole-frog recipe:
* 1 cup milk
* 2 sticks butter
* 1/4 cup lemon juice
* 1 quart water
* 2 tablespoons chopped parsley
* salt and pepper
Scald fresh frogs in boiling water with lemon juice. Remove, dry and dip in milk. Season and place in a baking dish. Cover with chips of butter and broil. Turn over when brown, baste and cook 15 minutes. Garnish with chopped parsley and serve with tartar sauce and toast.
.(JavaScript must be enabled to view this email address)
Most Recent Comment(s):