B&Bs, CFLs And McMackin Bucks

By
.(JavaScript must be enabled to view this email address)
Wednesday - January 23, 2008
|
Share

Del.icio.us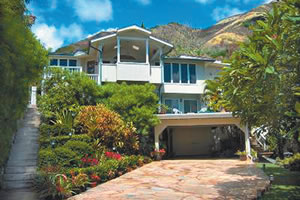 Kailua Hideaway B&B: Tax it like a hotel?
Add me to those in support of City Councilman Gary Okino's proposal to tax B&Bs and vacation rental properties at the hotel and resort rate, currently $12.90 per $1,000 of valuation.
When you're in the rent-to-vacationers business you're in the hotel business. No getting around that. The operators want it both ways. Be a small hotel but claim you're just a house for tax purposes.
There's room for compromise - perhaps hotel category 1 for three or more rooms and category 2 for fewer - but no room for a free pass on property tax rates. Obviously, an exemption for long-term rentals.
The B&B and rental folks created their own mess by using personal residences for hotel purposes. They should pay for the privilege.

My house is very unlikely to switch to those compact fluorescent lightbulbs (CFLs) no matter how many times Jade Moon does a TV commercial saying we should, and not even if the U.S. government goes through with banning incandescent bulbs by 2015.
No, before I'd switch I'd buy up a lifetime supply of the old Sylvania Daylight 100 watt jobbies while they still exist.
Why? Because lighting your house is about a kind of warmth, light distribution and the lumens needed as my reading eyes get older. But mainly about how my home lighting "feels." CFLs feel awful.
Maybe I could make them feel better if I changed all my light fixtures and all my lampshades. Maybe. I've tried the regular CFLs and they didn't toss enough "warm" light for our living room. If they are mixed among ordinary bulbs on a single room switch, the ordinaries light immediately and the CFLs have an annoying lag.
It's the warmth that's going to put off most users.
I've tried regular CFLs and the brighter daylight versions in my living room. Ordinaries just don't spread enough light around. The daylights do, but it's a kind of blue light that makes me think I'm already in the medical examiner's post-mortem room.
And if you've been reading the reviews, most designers seem to hate CFLs. There's a reason beyond thermal units and lumens why people love fireplaces and even use those fake electric ones in homes in hot climates. The fire or fire-like light does something for us. It's why we sit and stare into a camp fire.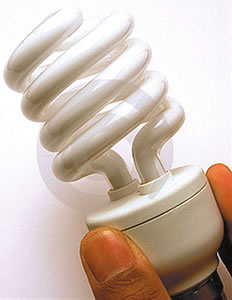 No CFLs will be in Bob's house
Try sitting and staring at a CFL!
Do I want to cut back on energy use? Sure. I already do. I stingily manage to get by on about an $85 bill for electrical useage and $60 for gas. That's pretty green for a six-room house, isn't it?
No, if I'm still alive in 2015 I'm buying up a hundred or so Sylvania incandescents on sale at City Mill and I'll still be using them the day they carry me out on a gurney.
The final indignity may be that I'll end up under a CFLin the medical examiner's office. Government and Jade will manage to get me in the end.

OK, we get a new UH football coach. For five years at $1.1 million-plus a year. He was making $110,000 last year.
Why hand Greg McMackin those big bucks when June Jones was only getting $800,000 as a winner?
Why not a five-year contract starting at $500,000, renegotiable each year, with incentives for wins and bowls?
Greg McMackin has become the highest-paid state employee without any record of anything to warrant that.
He'll be hitting the state treasury for nearly three times what we pay David McClain for running the entire UH system. Something's not right.
Most Recent Comment(s):