Being Held Back By Victimhood

By
.(JavaScript must be enabled to view this email address)
Wednesday - May 07, 2008
|
Share

Del.icio.us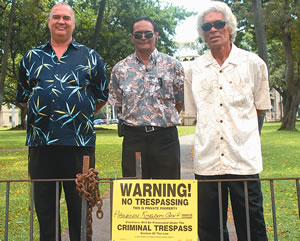 (from left) His Excellency Ronald Wayne Hightower, His Excellency Joe Endrina and His Excellency Tait Phillip Bright
So exactly what was that takeover of Iolani Palace last week by the self-proclaimed Hawaiian Kingdom Government supposed to accomplish?
Point out that the palace was built with Hawaiian and haole taxpayer money in 1882? That the cornerstone was laid with full Masonic rights because the Masons had contributed so much money? That anyone can form a government and call himself His Excellency? Or was it just that old victimhood shibboleth being resurrected?
The Washington Post writer George F. Will used an interesting phrase: "The debilitating mentality of taking comfort from victimhood - the habit, more than a century old, of blaming problems on others."
I often apply that to dissident knots of Hawaiians and part-Hawaiians. I know that's a hot-button topic and will make some people blow a fuse.
Some who have not made it up the economic ladder blame it on past loss of sovereignty or land. A great-great grandfather lost his kuleana and his kanaka identity.
I can easily agree that we have owed black Americans special consideration because we greatly discriminated against them in jobs and schools in my own lifetime. It's difficult for me to accept that some bad land or governance policies of more than a century ago crippled today's Hawaiians - or small-part-blood Hawaiians, in many cases.
The problem with that debilitating mentality of victimhood is that it is such a convenient place to put all blame for lack of personal initiative. It's a convenience. A bad one. But sometimes it works.
Remember when Bumpy Kanahele and his folks occupied beach land across Sea Life Park? The state got so antsy that it gave him 45 acres for a small village in Waimanalo and said, "We'll talk about lease money and building permits later." Bad policy from Gov. John Waihee.
I don't say there isn't room for the Akaka Bill or some version thereof. That's something else. It's an effort to give back to Hawaiians a sense of control of cultural affairs, educational and economic stimulation. I doubt the current bill would pass muster before the Supreme Court but, sure, go ahead and enact it and let's see.
With or without it, we must discourage that sense of brown-skin victim-hood - something that exists in Hawaii only in the mind, not in everyday practice of our lives.
I like the very positive things I see: Merrie Monarch Festival, Hawaiian immersion classes and restoration of the Mokuula alii site in Lahaina.
One bummer in our lives is poverty. Some of that is self-invited because of drugs, alcohol or lack of personal ambition. But so much is endemic - it starts in an adult household and then passes down to the children and their children.
Another bummer is inadequate education. I've always wanted to see Kamehameha Schools do much more out-reach with its billions than it currently does. Hawaiians have needed more schools out in their communities, not more schools perched on the hilltop.
I don't ascribe to that common myth that Hawaiians are like crabs in a bucket - when one is nearing the top, another pulls it down. I don't see any more argument and debate among Hawaiians than any other groups.
But I see and hear plenty of that debilitating mentality of victim-hood. It's mainly poverty speaking but trying to find another name.
I suspect it doesn't help when the Ken Conklins and William Burgesses slam Hawaiian efforts to regain ceded lands or OHA efforts to seed Hawaiian businesses and cultural programs. Hawaiian practices have been subsumed by the immigrant haole over the years. Only very lately have the language and the dance and respect for traditions come bouncing back. That's good.
Let's keep on the track. It will help if Hawaiians shuck the victimhood cloak and adopt that "yes, we can" motto. Taking over Iolani Palace does not help.

When some small crisis pops up, you realize there are reasonable people out there and there are alarming people out there.
Consider this about the Iolani Palace grounds occupation. The DNLR rightly let things sit - no harm was being done to people or property. Police Chief Boise Correa rightly went in civvies, sat on the grass and talked with the leader. Then everybody left and life went on.
But we had Sen. Will Espero going bonkers over nonaction (I guess he means guns and arrests and confrontation), and an over-the-top, ranting aide to Rep. Rida Cabanilla, Daniel de Gracia, telling the Hawaiians, "We'll never surrender, never. You will!"
Sheesh! What wallboards do these people crawl out from under?
Most Recent Comment(s):