Best, And Worst, Of 2009 Cinema

By
.(JavaScript must be enabled to view this email address)
Wednesday - January 07, 2009
|
Share

Del.icio.us
2008 was not a great movie year.
Good flicks, like good books, should enlighten us about the human condition.
The Secret Life of Bees did that. Slumdog Millionaire did that. Christian Bale did that as the kid actor in the 1987 Empire of the Sun, but certainly not as Bruce Wayne in Batman.
Lots of bummer film endings in 2008. Both youngsters in Boy In The Striped Pajamas die in the Nazi gas chamber. The hero-soldiers freeze to death in Iran's These Three. A paralyzed young girl is abandoned on a bridge in China's The Moth.
And I had to wait until mid-March to find one movie in our chain theaters that was good enough to talk up. That was In Bruges. It took until spring of 2008 for the superb foreign film winner at the 2007 Academy Awards, The Counterfeiters, to reach here. Why are we always so late?
I was distressed to see so many parents taking their very young kids to see You Don't Mess With The Zohan, with its crotch aerobics and raunchy sexual humor.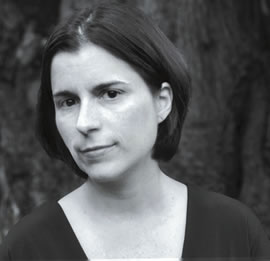 Gina Caruso of the Honolulu A Academy of Arts
But something very good happened for Honolulu film fans. The Honolulu Academy of Arts scored with Gina Caruso as curator for its Doris Duke Theatre. She outmaneuvered the local big boys to get Flawless with Michael Caine and Demi Moore, Gonzo: The Life and Work of Dr. Hunter S. Thompson and Gus Van Sant's Paranoid Park.
Here are my Oscar picks for movies that played in Honolulu by Dec. 31:
Best Movie Most Of You Never Saw: The Fall, an amazing film shot at 18 nation locations, astounding cinematography, and a great performance by Catinca Untaru, a child who'd never acted before.
Best Movie Most Of You Did See: Milk, the story of slain San Francisco city supervisor Harvey Milk, the first openly gay elected official. Oddly, it did not get a Golden Globe nomination.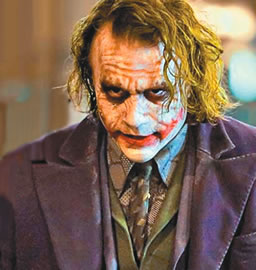 Heath Ledger as the Joker
Best Actor and Actress: The late Heath Ledger as the Joker in The Dark Knight.
Not a lot of great actressing to choose from this year, and we learned from Australia that Nicole Kidman really cannot act.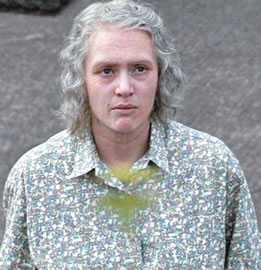 Kate Winslet in 'The Reader'
I vote for Kate Winslet's mesmerizing role of Hannah Schmitz in excellent movie The Reader.
Best Supporting Actor and Actress: Robert Downey Jr. for his run-away-with-the-movie role as Kirk Lazarus in Tropic Thunder. And Frances McDormand as Linda Litzke in the quirky Coen brothers' Burn After Reading.
Best Documentary: Surfwise, the life of surfer Dorian "Doc" Paskowitz, which the Doris Duke Theatre managed to snag as a Hawaii exclusive.
Most Provocative Flick To Make It Into Mainstream Movie Houses: Bill Maher's Religulous.
My Worst Waste of $6.50: The Curious Case of Benjamin Button.
Worst Actor Moves: The talented Jodie Foster did two stinkers in a row: Brave One and Nim's Island. What's up with her?
Same with Eddie Murphy. First the horrible Norbit and then Meet Dave.
And why did Al Pacino waste his talent on 88 Minutes?
Final note: Don't know if your reaction was like mine, but in the film Changling, I could never see a real mom. All I saw were those enormous collagen lips of Angelina Jolie.
Same reaction to her in A Mighty Heart.
Also: Two worst movie titles of the year: Quantum of Solace and Synecdoche New York.
The latter is pronounced sinECK-doe-key, but don't ask me to use it in a sentence.
Most Recent Comment(s):