Big Business On Waikiki Sidewalks

By
.(JavaScript must be enabled to view this email address)
Wednesday - May 28, 2008
|
Share

Del.icio.us
Tourists seem to love them. Business people who'd rather have tourists'eyes drawn to shop windows do not. And they use the city sidewalk rent-free for commerce and are unlikely to pay excise or income taxes on their cash receipts.
They are the Waikiki street performers, and after eight years of contentious efforts to ban or restrict them they are still there and taking up more space than ever.
The 2000 city ordinance signed by Mayor Jeremy Harris to ban them to six locations was put down by Judge Virginia Crandall. Unconstitutional, she said.
Three years ago, City Councilman Charles Djou, the police department and the Waikiki Neighborhood Board got the Council to pass Bill 71 to ban the street performers from 7 to 10 p.m. on central Kalakaua Avenue. Mayor Mufi Hannemann vetoed that. He agreed they sometimes interfered with pedestrian flow but, his spokesman said, "He doesn't believe that we can or necessarily should get rid of street performers to help address that issue." The Council caved and voted 7-2 not to override.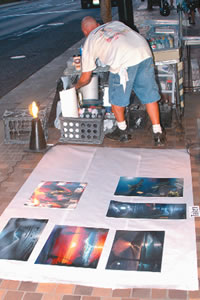 Staking out an expanse of Kalakaua sidewalk
I spent a recent evening checking what the Waikiki business community would call "the scene of the crime" and what UH planner Karl Kim - paid by that constituency to do a study - claimed caused congestion, delays and pedestrians stepping out into traffic. I didn't see any of that. The wide sidewalk easily handles the performers, the audience and those just passing by or shopping.
I liked the performances. Well, most of them. The gold and silver men. The small bands. The break dancers. I did not like some artists and others who had staked out large swaths of sidewalk as their own bailiwicks. Somebody always ruins a good thing.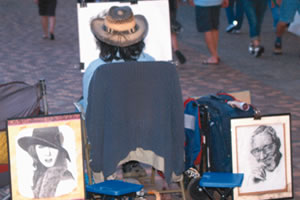 Step right up for a portrait
And is selling balloon animals and artwork "free speech" as was intended by the Constitution? I don't think so. Gold man, silver man, the musicians and dancers probably get a pass. The fortune teller should not. Neither should a hair-braider or a tattoo maker. That's doing business on a city sidewalk.
The city should not be afraid to carefully legislate or to be sued again by the ACLU. Former mayor Frank Fasi and Co. legally got rid of those fake free-speech T-shirt sellers. We can restrict or permit street performers in a legal manner, too. I'd prefer lottery permits rather than time-and-place bans. Don't permit sales or solicitation of "donations."
Certainly restrict each performer's sidewalk space.
Left unregulated, the most greedy will almost always ruin what could have been a "who cares?" thing.
Most Recent Comment(s):