Bob's Top '08 Restaurant Picks

By
.(JavaScript must be enabled to view this email address)
Wednesday - December 10, 2008
|
Share

Del.icio.us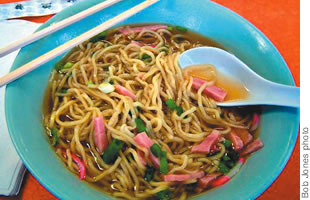 Is Hamura's Saimin really Kauai's best eatery?
It's that time of year when we eat out a lot, and the food critics tell us what's best.
I'm just an occasional, unschooled food critic, and my budget's limited but my tastes are solid. I am a 30-year, in-home cook.
This is my biennial roundup of restaurants where I like to eat, picked for creative kitchen work, nice settings and servers who make you feel appreciated. They're in no particular order and please don't think those not mentioned here aren't worth your patronage. I miss many great restaurants on my rounds.
When I'm on Maui, I'm torn between Pacific O and Mala Ocean Cafe, both in Lahaina. The chefs at those two eateries rank with Sean Priester at the Top of Waikiki as my three creative favorites. When I'm on the Big Island, I cannot easily choose between the Hilo Cafe Pesto and Hilo Bay Cafe. Kailua-Kona's pretty much a write-off except for the hotel dining rooms.
I've never found a really super restaurant on Kauai. But the 2008 write-in pick of Hamura's Saimin Stand as best-on-island for those always-suspect-with-me Ilima Awards left me stunned.
I'm not much for twigs of this and that sticking up from the garlic mash or "sauce drawings." I like imaginative cooking with basic ingredients, good color combos and no hocus-pocus.
A longtime favorite is Little Village Noodle Shop in Chinatown under the direction of Jennifer Chan, who also owns the creative Epic nearby. And one of my new old favorites is Duc Nguyen and Minh Nga Vu's always-charming Duc's Bistro on Maunakea Street. I had quit going because their menu hadn't changed in 15 years, and their prices were too high. The new menu is spectacular and the prices lowered. It's my food-high winner this time around!
The Honolulu Academy of Arts Cafe. I don't like the cement facade it looks out on (very bad architectural planning), but I cannot imagine a better lunch for the price, or nicer food servers. It's become one of the toughest lunch reservations in town.
Japanese food-taverns have found great popularity here and I used to frequent Tokkuri-Tei in Kapahulu, but it's been overtaken on my list by Gazen Bar & Grill on Kapiolani (site of the former Bea's Drive-In). Try its made-in-house tofu offerings and fried mochi.
Out Leeward side, I've become enamored with Roy's at Ko Olina. Not noisy like the Hawaii Kai location, and way better architecture. Fabulous setting for lunch and excellent food.
Buzz's in Lanikai never gets any local awards, but tell me another place that has the feeling of an old beach shack and sticks with comfort foods like grilled meat and fish and fabulous salads?
And to eat well and cheaply, go with the appetizer menu at Haleiwa Joe's at Haleiwa boat harbor. The calamari or braised ribs fill you up for under $10 each.
I can't recommend the Green Door in Kahala. When I called to ask for a reservation, a woman shouted "No reservation!" and hung up. I called back to ask if they took checks and she shouted "Just cash!" and hung up.
And still the best Vietnamese soup in town? That's Pho South King in Moiliili. It's about the fresh-cut chicken and rock candy in the broth.
I guess my hangup as a critic is that I'm not really a guy who needs to have a famous chef cooking for me. And I can pass on the abalone ceviche, cod croquettes, red chimichuri and essence of cilantro.
I'm more Manago's in Kona, Seaside in Keaukaha, Teshima's in Hanalo and Blue Ginger Cafe in Lanai City.
Two restaurants I have not tried, but MidWeek editor Don Chapman did and gave them great reviews, are Wild Ginger, the Southeast Asian place on Waialae Avenue, and Bravo, an Italian eatery below Anna Miller's in Pearl City "with fantastic little garlic-butter pastries instead of bread."
But I must confess my own Italian delight - Buca Di Beppo. It's something about the kitsch, the wait help, the big plates of food and people loudly enjoying themselves. Makes me feel I'm back in the Ristorante da Meo Patacca in Rome's Trastevere quarter.
Most Recent Comment(s):