Bringing Back A Historical Jewel

By
.(JavaScript must be enabled to view this email address)
Wednesday - September 07, 2011
|
Share

Del.icio.us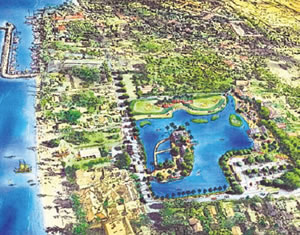 Artist Ray Tablante's rendering of Moku'ula. Photo courtesy Friends of Moku'ula
It was in a September 2008 issue of MidWeek that most of you probably first heard the word Moku'ula.
I'd just returned from Lahaina and learned that a weed-filled area mauka of the Lahaina Shores condo was from 1837 to 1845 the inland-island-on-water capital of the Hawaiian Islands during the reign of Kamehameha III. And that in 1914, Pioneer Mill's owners filled it in to eliminate mosquitos. Later, it became a ball field and tennis court and parking lot.
I looked at renderings of this historical jewel and could hardly believe it had been bulldozed and forgotten. It should have been one of Hawaii's greatest tourist attractions.
Well, it wasn't forgotten. It was just a slow-moving project by volunteers called Friends of Moku'ula. Then, excavation by UH-Maui students resumed two weeks ago. Soil testing is pau and positive.
It's back on fast track, a proposed $30 million project that to me is like restoring Iolani Palace or maintaining the Royal Mausoleum. The plan would bring back the waterway and rebuild some of the structures of Kauikeaouli's rule there before he returned to Oahu. Maybe equally as important is to restore the wetlands. Doing that would revive the natural drainage of old. The wetlands marsh settled sediment out of the downmountain rainwater and gradually sent the excess water out to sea. Today it's a flood zone.
This needs Army Corps of Engineers and county approvals. It should get them. It's well thought out and feasible with private donations and government money.
I'm glad that what seemed so distant when I wrote about it in MidWeek three years ago is on front burner.

The Saturday farmers market at Kapiolani Community College needs fixing.
It's become a magnet for Japanese tour operators' clients. Their hordes of gawkers make access for local shoppers difficult.
Most Japanese are there to eat roast corn, pizza, fried green tomatoes, abalone and garlic-butter clams. Alas, those stands are on the main fairway. Local shoppers can barely break through the lines of waiting eaters.
I'd move the eating stands to the back of the grounds and have only shopping stands at the front. The eateries may not agree, but this was meant to be a produce/flowers mart, not Restaurant Row.
And I wish the college system or farmers could collect money from the tour operators who use the market as a stop for which they are getting paid.
But mainly, move those eating stands away from the main fairway.
The place is in danger of killing itself.

Hope you saw the Society of Professional Journalists' production of Gridiron 2011 at Diamond Head Theatre. It was loaded with local talent. But the best is director/choreographer Ahnya Chang, who's moved back here from NYC and the National Dance Institute. She's the daughter of former state Sen. Tony Chang and veteran local stage actress Lisa Konove. We're very lucky to have her home.
Most Recent Comment(s):