Burial Grounds And Judging Lee

By
.(JavaScript must be enabled to view this email address)
Wednesday - November 07, 2007
|
Share

Del.icio.us
Let's talk buried bones and the celebrity who ran off at the mouth with the "n" word, the "f" word, and the "n" word preceded by the "f" word.
First the celebrity. Count me as one not surprised to read that bounty hunter Duane "Dog' Chapman used the "n" word six times in 45 seconds in referring to his son Tucker's black girlfriend. Sometimes the "f…ing n…..." words.
In fact, that recorded conversation seems to have him saying he'd be happier if his son Tucker were living with a Mexican or a whore than that black woman.
Why should I be surprised about Dog's real character revealed? A man of minimal education, a first-degree murder conviction, dressed like a Rambo caricature with flowing gold locks, and chasing around playing town marshal.
My surprise is that somebody ever put him on television and that so many of you bought into his invented persona that you made his book a No. 1 New York Times best seller. What's that say about America's taste in TV and books?
I am surprised that our state House honored Chapman this year with a resolution and photo ops. What's that say about our legislators' sense of who's deserving of high-level recognition?
I am not surprised that Chapman would become a big problem for his local publicist. Maybe she put into his mouth those half-baked words of apology: "I have the utmost respect and aloha for black people."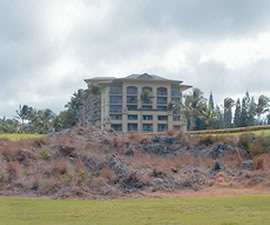 Dune burial sites limited Maui Ritz-Carlton
This was a rant of deep-felt disgust that his white son was with a black woman. Worse, he admits the "n" was a reference to her character rather than her race. So to paraphrase the Dog's words of comparison: Better a Mexican or a whore than an "n."
Well, we'll see how this one plays out. At the very least it's prime Gridiron Show material.
Meanwhile, it will be interesting to check if state Rep. Gene Ward keeps the souvenir photo of himself and the golden-haired one prominently displayed.

Now the bones. This matter of burial site discoveries during construction. Wish I could say "here's what we ought to do," but this one confounds the most well-thought-out opinion.
There's the law, there are community cultural beliefs, and there are individual, emotional beliefs. None can be ignored, even though we try to work by law.
That General Growth Properties development along Auahi Street has turned into a dilemma. What to do about increasing evidence of a major burial site?
We of recent Western civilization stock aren't deeply involved. Most of our gravesites have been well marked for centuries.
The issue mostly involves Native Americans and Hawaiians.
Hawaiians stacked stones at some sites and buried some in sand dunes. High chiefs and kupuna with extraordinary mana were buried at night to conceal their location.
Some archaeologists project that the Auahi Street site could have been the burial ground of more than 300 people. Does the state allow development or confiscate the property as a confirmed cemetery?
There is precedent both ways. The Iowa Supreme Court ruled that designating a property to be a protected burial site does not require the state to compensate a landowner for loss of value. That does not constitute a government taking and the court said "when the developers acquired the property, there was no right to disinter and build in the area where remains were located. For that reason, there was no taking when the state archaeologist made the significant find and took action denying permission to dis-inter the human remains" [519 N.W.2d 367 (Iowa 1994)]. An appeal to the U.S. Supreme Court was rejected.
However, in South Dakota, a federal judge ruled that the state could build a waste dump site and fish-cleaning area for campers on a parcel of land along the Missouri River that included a Native American burial site. He said it was only necessary for the state to allow time for Native American ceremonies to be conducted before resuming construction.
If you're change-is-change minded, you probably vote to move the Auahi bones someplace else. If the iwi are of your ancestors or you believe in tradition, you'll likely vote for the bones instead of the Whole Foods store.
I'm torn on this one. I'm not a traditionalist, a believer in sacred sites or a Hawaiian. Neither do I scoff at the honest beliefs of others. If this were merely a protest against building, I'd slough it off. I don't think it is.
If there really are 300 or more burials there, isn't that a true cemetery of the kind we preserve in the rest of America?
We could ask Attorney General Mark Bennett, but given his office's Superferry record on law interpretation that wouldn't likely be helpful.
Most Recent Comment(s):