Carlisle's Run, Lingle's Failures

By
.(JavaScript must be enabled to view this email address)
Wednesday - July 15, 2009
|
Share

Del.icio.us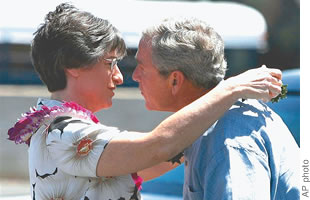 Gov. Linda Lingle greets 'the best president we've ever had' upon arrival in Hawaii
What is it that prompts those with zero legislative experience to run for mayor? We had the professor Panos Prevadouros last time. Now the city prosecutor, Peter Carlisle. I guess they figure they can learn while they work.
Every mayor we've had, from Neal Blaisdell in 1954-68 through the current Mufi Hannemann, has served either in our Legislature or on the City Council (formerly the Board of Supervisors) or, in the case of Jeremy Harris, as a Kauai county councilman, city managing director and acting mayor.
Carlisle can say he's run a city office for a long period, but that's a far cry from making the calls on everything from sewers to long-term budgets for capital improvements.
And if we'd elected Prevadouros, we'd have gotten a mayor who'd no doubt have killed the train project but would have been a babe in the woods when dealing with a prickly City Council or a batch of egotistic state politicians.
We might consider requiring at least a couple of years in the Legislature or on a county council as a minimum qualification for mayor or governor.
Of course that's no guarantee. Witness the Eileen Anderson floperoo of 1981-1985.

I stayed out of the furlough-layoffs-taxes fray because I'm no expert on which is the best road to balancing the state budget. It is, as they say, way over my pay grade.
But I feel qualified to make some observations about a way-out-of-line judge and a badly faltering governor.
Circuit Judge Karl Sakamoto made the call that the governor can't order furloughs while there's collective bargaining in progress. No problem there. He's paid to interpret the law as he reads it.
But then Sakamoto added this:
"The nature of a 13 to 15 percent cut in wages [by furloughs] sets in motion changes of jobs, failure of workers to make rents, mortgages, affecting their families ability to pay tuitions, to pay their loans, creating bad credit ratings, and cascading effects from these events."
That's not reading law. That's making policy judgment and definitely not what Sakamoto's paid to do. This judge remaining on the bench should worry us all, regardless of how we feel about the furlough matter.
Now, about Linda Lingle, this kerfuffle and her loss of governance headway.
Montana's U.S. Sen. Max Baucus says he's seen two kinds of politicians, the "be-ers" and the "doers." The former mainly enjoy holding office and the latter use their position to get big things done.
I've closely watched the two-term career of Gov. Lingle and with no partisan malice (I voted for her twice) I classify her as a beer rather than a doer.
Lingle came to Washington Place with a public mandate, votes from many Democrats as well as her GOP constituency, and a lot of political capital. And within a couple of years she'd blown the latter and lost a lot of party support as well.
A popular lady, she'd worked for the Teamsters on Molokai and was a Democrat until the Molokai seat on the Maui County Council was occupied by a Democrat and she decided to run as a Republican, and won. Then it was Maui mayor, beat once for governor and won twice.
But where's the beef as that old fast-food commercial used to ask?
Most people aside from lawmakers, lobbyists and journalists would be lucky to name two cabinet officers in the Lingle administration. They're invisible and not allowed to be policy innovators. And Lingle's not been a policy innovator.
Maybe the latter problem is a fault of having installed the conservative Linda Smith (husband is the rump GOPer Paul Smith) as chief policy adviser. Lenny Klompus failed her as chief communications adviser. Lingle came to the job with remarkable speaking and persuasion skills. But by her TV speech on the budget problem, she looked really old, really tired and really discouraged. She read from an off-camera prompter, which made it look at home as though she were talking to somebody in a corner of her office.
A doer would have made an offer to the unions before going on TV to announce furloughs. She did not. She was jawboning while the deficits piled up. Turns out the Legislature was right when it said, hey, we have to balance the budget by law and you haven't done squat to offer your budget.
Forget about running next year against Dan Inouye. She could resign early to give Lt. Gov. Aiona a leg up as acting governor and run for either seat in Congress. I don't see that happening. She's washed up.
Whatever happened to her gubernatorial years four, five, six and now seven? Why absolutely nothing to remember except her plugging for the erratic Sarah Palin, her trip to Iraq, her picture in a flak jacket and her incredibly dumb statement that George Bush was the best president we've ever had?

I've decided to lead one more trip through Vietnam, Laos and Cambodia (with a one-day Bangkok stop) before I call it quits with the Indochina that played such a big part in my life. You can e-mail me for the details if it interests you.
Most Recent Comment(s):