Case, Allegations And Yen King

By
.(JavaScript must be enabled to view this email address)
Wednesday - August 29, 2007
|
Share

Del.icio.us
I'd hoped the lead on this week's column would be:
Fasten your seat belts and get ready for the wildest Hawaii primary race for governor since Burns-Gill in 1970. It's going to be Rep. Neil Abercrombie vs. former Rep. Ed Case.
But after a two-hour, no-bull session with Case, I'm stuck with the same conclusion MidWeek editors expressed in a headline on colleague Dan Boylan's story in early 2005: "What Will Case Run For Next?"
Abercrombie will run for governor. That's as sure as a sure thing gets - unless Dan Inouye or Dan Akaka dies or resigns between now and the 2008 general election.
Case may run for governor. He admits that. But he really wants to be one of our U.S. senators. He'll not confront Inouye in 2010. He knows he's unlikely to make the Democratic Party's list of three that Gov. Lingle would be required to pick from if there's a Senate vacancy by death or resignation. He's in party purgatory for running against Akaka. So he's prepared to wait until 2012 and run for Akaka's seat - again.
Case understands that the 2010 governor's race could be an opportunity for a moderate Democrat aligned against the old party members and not in bed with the public worker unions. Abercrombie is left of center, and Case doesn't think Mufi Hannemann will run. He suspects Mufi wants to go for the Senate in 2012 and wouldn't want to be known as the guy who served two years of a new mayoral term, then two as governor and was trying to change jobs again in 2012. But then, he's not a Mufi fan.
The GOP's Duke Aiona could be a formidable campaigner on a person-to-person basis but his evangelical Christianity would, I think, be fatal in this moderate and heavily Buddhist state if it were an Aiona-Case general.
No matter, Case honestly feels his best political fit is the U.S. Senate or maybe the Congress again.
He shared a story he says he's only told a couple of people.
In 2005 at the U.S. Capitol, Dan Inouye called a meeting of himself, Akaka, Abercrombie and Case, and said the party felt Case should run against Lingle in 2006.
Case figures the others had seen an interview where Case said he wouldn't rule out running against Akaka and that Inouye et al. preferred to see him likely crushed by Lingle and out of the way.
Case clearly remembers saying "No, thank you, Senator." And maybe saying "Why not Neil?"

That's a very serious allegation that former UH wide receiver Ian Sample makes against the Warrior football team - that some prominent players were known to use drugs but were never randomly tested with the others.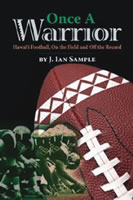 Ian Sample's 'Once A Warrior
It's material Sample claims Watermark Publishing deleted from his new book Once A Warrior but is all over the Internet. The story was broken by Star-Bulletin sports reporter Dave Reardon.
My read is that this not only requires a UH investigation, but should provoke state attorney general Mark Bennett to subpoena Sample before an investigative grand jury and compel testimony under a grant of immunity.
Sample played three seasons with the Warriors and in all 14 of their games last year.
Reardon says head coach June Jones initially brushed off the allegations by saying of Sample: "I really don't care what he wrote."
That from a state employee whom the Board of Regents has decided to throw more money at next contract.
Maybe Sample's wrong. But what if he's right and Jones has been fudging on the NCAA-required random drug tests?
That could flush the football program right down Thomas Crapper's famous bathroom fixture.

Count me among the many unhappy and puzzled that the popular Yen King restaurant with its among-best-in-town, affordable Chinese buffet for 20 years has been un-renewed by Kahala Mall management.
Will the new tenant be another Mainland chain? Stay tuned, as they say. I'll stay unhappy.
Correction: In last week's column about mortgages, I mentioned that Robert Tassie was with Mortgage Plus. He was. He has since switched to MortgageSource LLC.
.(JavaScript must be enabled to view this email address)
Most Recent Comment(s):