Catching Up, Investment Advice

By
.(JavaScript must be enabled to view this email address)
Wednesday - October 08, 2008
|
Share

Del.icio.us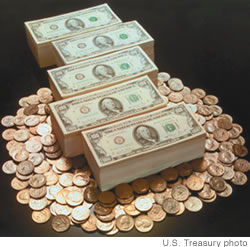 There's not as much money this month as there was in September
You may have noticed the absence of opinion from me last month on the big political and money issues. I was checking out the Idaho wilderness for a travel story and - sorry - I just could not bring myself to rush back to Honolulu to take part in the discussions!
Now I'm back, have looked over the mayoral primary figures and watched the presidential debate and found my IRAs and my wife's 401(k) diminished.
So here we go.
The miserable performance by volunteers at some voting spots gives us additional ammo for firing the miserably performing State Elections Officer.
I think Mufi Hannemann would have run away with the primary had more than 30 percent of registered voters bothered to show up. Maybe we did need transit on the ballot to generate more interest. I'm not surprised by the 17 percent drawn by Panos Prevedouros. He pulled two points stronger than I'd predicted, but obviously was never a real contender. He can go back to what he does best, which is teach and promote covered wagons as efficient transportation.

The McCain-Obama debate was fascinating, and the GOP senator sure outclasses George Bush in spitting out the names of obscure world leaders. And maybe he even won the debate on points by painting Obama as "naive" and "dangerous."
But McCain wigs me out. He's part of that Old Guard of America Firsters in an age when we must recognize that we can't always have things 100 percent in our national interest. Others have national interests, too, and we need to sit across from them at a table and talk out some compromises. McCain loves Georgia's president Saakashvili and thinks Russia was all bad by moving into that country recently. Actually, Saakashvili is no democrat, no nice guy, was bullying ethnic Russians in South Ossetia, and started the shooting war and then got his army's butt kicked.
McCain resonates with the small-town Americans - don't-tread-on-me types - who want us to kick the butts of all who disagree with us or oppose us on the world stage. Obama appeals to those who want us to reassess our projection of power when we're not directly threatened. Alas, many Americans love John Wayne McCain talk and bringing in the cavalry to kill off the Indians.
McCain made fun of $5 million to study endangered grizzly bears' DNA. That project set up barbed wire hair-snagging stations to pluck fur from passing bears that would be used for DNA fingerprinting, a technique employed to distinguish individuals of the same species by the differences in their genetic material. This is the only way to accurately estimate population in heavily forested terrain where bears are difficult to spot.

Now about money. Yes, my retirement investments lost about five percent in just the month I was gone and now about 20 percent since the tumble started this year. That's not good, but it could have been much worse. However, I'm the heavy-load money manager for my wife and me, and our 35-year-old daughter, and I avoid the mistakes made by so many with lesser investment backgrounds.
I always put the max into 401(k) accounts and IRAs. Only token money into workplace stock. I buy very few individual stocks. I can't outguess the big boys and girls on Wall Street. I use cheap-expenses mutual funds. I'm paying the biggies maybe .2 to one percent a year to do the picking for me.
I'm diversified. Large-growth domestic and foreign companies. Some American and foreign real estate holdings, some foreign bonds. Until recently, a commodities (energy, food, metals but no pork or greasy wool) index.
Inflation-protected bonds, a REIT index and a specialty bond fund that takes a little upside risk and yields more. For my daughter, Boyd casinos, Northgate gold and copper mines, oil and gas funds, Asia tigers. She can afford short-term loss of capital because the long-term upside is so great.
And always keep a cash position. Cash is king when the market's down. Fidelity Cash Reserves is my fund of choice for that.
Don't sell when the market's going south (it historically recovers) and don't buy some fund just because it had one great year - they historically fall back. My own main holdings:
One growth fund: Fidelity Spartan 500.
One overall fund: Fidelity Total Market.
One foreign fund: Dodge & Cox International.
Three bond funds: Vanguard Total Bond, Fidelity Strategic Income and Loomis-Sayles Retail Bond.
Individual bonds: Hilton Hotels and Motorola.
One world fund: Oakmark Global.
One healthcare fund: Vanguard Health.
Two for real estate: Third Avenue RE Value and Alpine International RE.
My approach is similar to that in the book The Gone Fishin' Portfolio by Alexander Green. A sleep-well portfolio of minimal risk, minimal active management, no forecasting, and you can go somewhere away from the Internet and forget about it if you're 72 and like the trout, bass and chinook to be had in Idaho rivers in September.
Most Recent Comment(s):