Coast Guard Useless On Kauai

By
.(JavaScript must be enabled to view this email address)
Wednesday - September 05, 2007
|
Share

Del.icio.us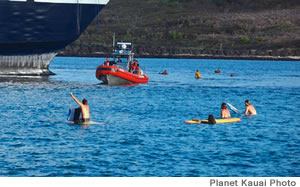 Surfers waylay the Superferry in Nawiliwili Harbor
The Hawaii Sierra Club deserves to lose a lot of Good Guy points and support (and our money) for its petty legal haranguing of the Hawaii Superferry.
I'm for good environmental stewardship, but in this case it's been misused. The ferry won't be banging any more whales or hauling any more invasive species than Norwegian Cruise Lines, Matson or Young Brothers.
Minor matters could have been addressed as the popular ferry ran.
Those same environmentalists, in their Earthjustice cloaks, are trying to block the proposed fruit irradiator here as "hardly in the public's interest."
We can sense the difference between honest concerns and being annoying for annoyance's sake.
Also, we had a chance to see the total impotence of the State, the Kauai police and the 14th District Coast Guard under Rear Adm. Sally Brice-O'Hara to guarantee safe passage of vessels into Nawiliwili Harbor.
So much for Homeland Security, yeah?

Maybe - and I stress the maybe until more voices are heard - we need a radically revised policy about the homeless who set up house on our beaches and in our parks.
We've done our best with urban shelters and feeding points and some temporary housing facilities in Leeward Oahu and the North Shore. We have outreach workers talking to the beach and park dwellers.
Still, we see a gang of folks passing on the shelters and opting for Maili and Waianae, Ala Moana Beach Park and Thomas Square.
Some don't like the shelter regulations. Some are too "mental" to make the move or too drugged out. I've also known relatively OK people who just like the beach life. Nice showers and bathrooms, daily swimming and no rent.
If the homeless only went to the beach or the park rather than setting up housekeeping there I'd have no complaint. Those facilities are for all, not just a certain class of users.
The no-permit tents and tarps at the beach and the illegal-at-all-times camping at Ala Moana and Thomas Square do merit complaint - and a solution, even if it seems harsh at first reading.
Arresting and jailing no-permit dwellers would be unproductive. Where would we hold them? More doable are statutes and ordinances which allow police to confiscate and destroy tents and possessions - much as we do with fishers caught poaching or divers caught spearing lobster.
I'd not suggest such harshness if I thought the community were not doing its part to alleviate temporary homelessness, especially among single parents with children. They have done their part. The chronic homeless have not done theirs.
And there have to be reasonable limits on successive permits by related persons or successive inhabitation of a permitted site by the same individual. Then we all get to use the beaches and the parks. The ones that do not allow any camping won't have any campers. There should be well-enforced restrictions on tents and canopies and occupancy. We need that anyway because many weekend and holiday beach-and-park goers have gotten overly possessive with plots of parkland by setting up contiguous canopies and those huge inflatables.
But of immediate concern, when you see 180 beach dwellers in 60 tents at Ulehawa Beach Park No. 1 or those regulars taking up residency in Thomas Square, you know we have a problem not adequately addressed.

I came around to supporting fixed-guideway mass transit last year because I know we must get more people out of their cars during peak travel hours.
But it hasn't made sense to me if it doesn't serve Mililani and Hawaii Kai and have park-and-ride connection to Waianae. It won't because we can't afford it as a rail system, either elevated or street level.
Could we afford it and get the same federal money if we went to some version of a guided-but-flexible, multi-cabin bus system? We don't know because the mayor seems determined to have a train on a short run that's iffy as a travel alternative for many people (along with the commuter ferry I can't see going anywhere but broke.)
I'm worried about any mass transit system that cannot easily be changed because of demand or new building. I'm worried about $3.6 billion morphing into $6 billion or even $10 billion. And still no service to Mililani and Hawaii Kai.
We do need some things quickly: mass transit serving outlying communities and a punishing vehicle tax to get families out of at least one of their cars. And maybe even an odd-even plate-number system for entry into the urban core via the freeways or Kalanianaole Highway.
And we need to know immediately if we can get the same federal funding if we want a flexible guided busway instead of a train.
That strikes me as reasonable thinking.
Most Recent Comment(s):