Coke And The Creation Of Santa

By
.(JavaScript must be enabled to view this email address)
Wednesday - December 26, 2007
|
Share

Del.icio.us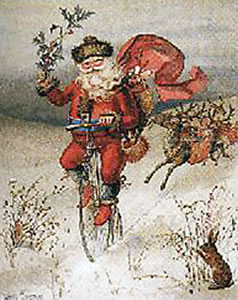 Santa by deceased poet/artist George Webster
Ever wondered how it came to be that Santa Claus has his workshop at the North Pole? I mean, who can live at the North Pole on a sustained basis? Who brings in the food and fuel and all the stuff for making toys? Not even our best scientists can live there year round.
And how did Jolly Old Saint Nick's fat man image come about? OK, here's the full story.
It was the poet George P. Webster who gathered up a bunch of old drawings in 1869 and wrote a book in which he identified Santa Claus's house and workshop as being at the North Pole. And the skinny-man-on-a-bike drawing with this column is the one that was his Santa. There were others. Some even had Santa as a midget. Maybe if that had survived we'd not have the attitudes we do about little people.
I don't want to get into that whole "is there or isn't there a Santa" thing. Obviously, it seems to me, there is one or how did all those presents get under the tree when I was a kid? They didn't materialize out of thin air like the magic powder of an Indian swami. I woke up one Christmas Eve and definitely saw Santa in our house. I yelled to him but he ran into my parents' bedroom and disappeared.
But I never got comfortable with Santa at the North Pole. What bank would give you a mortgage on a piece of property there?
How did Santa come to be dressed in red and white? That's a great story of American advertising. In the early '30s, the Coca-Cola Company was looking for ways to hype sales during winter, a slow time. It hired commercial illustrator Haddon Sundblom and he created the larger than life, red-and-white-garbed, fat-man Santa Claus with a Coke and shown everywhere on posters and billboards. So I guess we can say Santa goes better with Coke.
Coca-Cola likes to downplay that story and say - true - that there was a similar Santa in ads in the late '20s, but that one had a full-red suit. True, he also had whiskers. But the Coke Santa with white fur trim is the one that survived.
I guess you know that the American version of Santa comes from the Dutch legend of the gift-giver Sinter Klaas, brought by settlers to New York in the 17th century. Author Washington Irving gave us our first story of him, called in English Saint Nicholas. He said Santa arrived on horseback each St. Nicholas Eve.
Then came the 1823 poem
The Night Before Christmas, and we were off. But Santa was still an elf then. That's how he could lay a finger aside his nose and rise up the chimney. The later, fatter version could not have fit.
It's that North Pole residence that troubles me. I'm sure Santa could get much more work done with fewer logistical nightmares in Hawaii.
That bulky red-and-white suit would have to go. But Santa seems like the kind of guy who would fit in here.
He could take his stuff on the Superferry, reindeer and all.
Merry Christmas to all. And if you have a child who lives far away, I hope you're as lucky as we are to have her home for the family dinner.
Most Recent Comment(s):