Crazy Taxes, Silly Spelling Bees

By
.(JavaScript must be enabled to view this email address)
Wednesday - January 31, 2007
|
Share

Del.icio.us
The new property tax assessment dismays me. I've owned and occupied my house for 30 years and would like to die in it - if I can afford the city tithe.
Politicians wince and pass exemptions for age or church ownership, and now maybe for owner-occupancy. May I suggest consideration instead of a capital-gains-type city surcharge on all residential and commercial resales? It won't make me any friends in the real estate business, I'm sure, but I think that's better than more exemptions.
The revenue that's lost by exemptions must be made up someplace else. It's that or let the city go to hell. We've already let to many city roads go to hell.
But we all ask the same question. Can't government spend less while keeping up?
Of course it can.
Must we give the HGEA, UPW, HSTA and UHPA employees a 5 percent to 9 percent pay raise? Yes, but only because the law mandates arbitration rather than the settle-or-strike method. Can't state and county employment be cut by at least 5 percent without loss of essential services? I never hear a clear answer on that one.
We all seem to agree there is waste and mis-spending. But the problem never gets corrected. Just nibbled at.
And then we get our new assessment notices.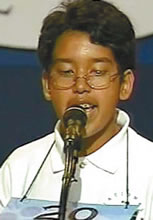 Eighth-grader Anurag
Kashyap won the National
Spelling Bee by correctly
spelling 'appoggiatura'
The Providence Journal of Rhode Island has withdrawn its support for the National Spelling Bee.
I wish that spelling bee would go away, but I know it has a coterie of fanatical parent backers - I think they are the same folks who shove their kids into beauty contests.
The spelling bee was started by my old newspaper, the Louisville Courier Journal. It spread to the 50 states as a warm-and-fuzzy promotional gimmick. The championships are held in Washington, D.C., and televised on ESPN.
It has outlived its usefulness. It's no longer about etymology (the root origins of words) or improving vocabulary. It's about photographic memorization of a book of words each contestant gets.
We need kids with a better grasp of history, social science and geography. For spelling, there is Spell Check.
We need kids who can explain what's right or wrong about the Bretton Woods international money management system, or why Great Britain broke up Mesopotamia and created Iraq with an amalgam of Shia, Sunni and Kurds who hate each other.
We need kids who can think, not kids who can memorize a book full of squirrely bee-winning words like "appoggiatura" - defined as "a grace note performed before a note of the melody and typically having half its time value."
That's a word I can hardly wait to use in my next e-mail!

Local songmaster Art Wong adds to my discussion about proper use of Hawaiian. Many of us mouth Hawaiian words we don't fully understand. He writes: "A case in point is the vocalizing of Hawaii Aloha, often sung at the conclusion of various events at a solemn, deliberate tempo more appropriate to a funeral dirge rather than in a firm, upbeat manner reflecting the spirit of the chorus, Oli e! Oli e! - Rejoice! Rejoice!"
Great observation, Art.
Most Recent Comment(s):