Criticize, OK, But Offer A Solution

By
.(JavaScript must be enabled to view this email address)
Wednesday - October 21, 2009
|
Share

Del.icio.us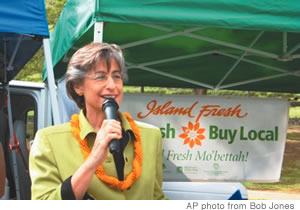 Gov. Lingle was right about nattering nabobs of negativity
Regular readers of this column know that I'm not a fan of Gov. Linda Lingle and her coterie. We rejected her when she ran against Ben Cayetano. Then we elected her, mainly because we didn't think Mazie Hirono was up to the job.
Lingle's vision has been blurry. I think that's because she'd been angling for some post-governorship appointment if the Republicans ruled the day nationally.
But when the lady's right, I feel obligated to give her a thumbs up. I'm not an ideologue. And she was spot on with a speech on what former vice president Spiro Agnew called the "nattering nabobs of negativism." Lingle said there are too many citizens saying "no" without offering alternatives.
She pointed out the Superferry. OK, so some procedures were not followed. Why did the naysayers insist that the ferry be killed rather than working to manage the procedures in a keep-the-ferry way?
Now people are naysaying that Lanai-to-Maui-to-Oahu windfarm electricity proposal. We haven't even studied the undersea cable and the bitching's begun. Lingle's right that before we lead off with a bitch, we need to look at the larger issue. We're killing ourselves by importing so much oil.
The Sierra Club and others hopped into a lawsuit against the latest telescope on Mauna Kea, an important project. The mountain's already full of scopes and one more won't wreck the environment. If that and cultural issues are at play, we should have said no years ago when the first scope was going in. Objecting today makes no sense.
Sure, I wish we had no scene-stealing wind turbines, Mauna Kea scopes, hotels right on the beach or subdivisions up our mountain ridges. We elected growth over aesthetics. Now we need roads and power and jobs. We need to work with what we are, not what some wish we'd been.
The telescopes are something we can live with. Lanai, Maui and Kahuku windfarms are not in our normal line of sight. A ferry is no environmentally worse than Young Brothers barges.
If you disagree, offer another solution. Just saying no is not acceptable.

My MidWeek colleague Dan Boylan wrote politely some weeks ago about his UH faculty colleagues' reluctance to take some of the same pay cuts or furloughs being demanded of other state employees. But another veteran faculty member, shattered by the 86 percent refusal to share the pain, was more cut-tothe-quick in a note to me.
"I am sickened by the sanctimonious and self-righteous rhetoric my colleagues are spewing these days ... the majority of my colleagues send the message that they don't give a rat's ass about the rest of the state - as long as they can protect their most recent raise, they're fine."
Unionized faculty has gotten 31 percent in raises over six years - 11 percent of that just in the past year.

If Jon Corzine beats Chris Christie for New Jersey governor next month, that should send the publicly funded elections gang into rethink mode. Christie took only public money and is spending about $6 million. Corzine is using his own and donators' money - about $17 million.
Most Recent Comment(s):