Cultural Damage Is Already Done

By
.(JavaScript must be enabled to view this email address)
Wednesday - September 26, 2007
|
Share

Del.icio.us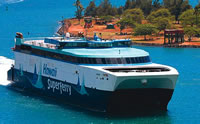 Why did no state attorney suggest the Superferry need an EIS?
Tiring of the Superferry story? I am, except for my questions about some screw-up and overkill issues.
How is it that state attorney general Mark Bennett, who advises Gov. Linda Lingle, and his deputies, who advise the departments of Transportation and Health, all said no environmental assessment was needed before the ferry sailed?
The State Supreme Court says they were wrong. So how could those state lawyers have made such a bad call? You mean to tell me not one of them warned that "we just might have a problem here?" Is that plausible to you? And nobody gets fired for incompetency?
And how did the the 2002 Legislature pass Act 343 with such ambiguous language so that even rebuilding Ala Wai Harbor dock facilities for family sailboats can trigger an environmental assessment to include cultural damage?
Now look at the shoreline development on Maui, Kauai and the Big Island, and the irredeemable spoilage of Kailua-Kona and Kamuela on the Big Island. Then tell me that the Superferry might do cultural damage.
County councilwoman Michelle Anderson says Superferry would bring criminal elements and drugs to her Maui. So I dredged up these recent, pre-ferry news stories:
1) An elementary school teacher and her husband were among four people arrested for drug dealing in what police call the biggest drug bust in Maui County's history.
2) Two people arrested after police seized $1.5 million in cocaine and crystal methamphetamine from a Kahului home were back in jail after being indicted on charges of methampheta-mine trafficking.
3) Maui police reported a surge in gambling arrests, most involving cockfighting. A total of 165 gambling arrests.
Those who claim the Neighbor Islands are special places unlike Oahu are kidding themselves. They were ruined ages ago, starting with turning the forests into cattle pastures. Then came the building sprees championed by governors and county chief executives and lawmakers.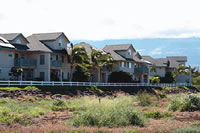 Kenolio: another Neighbor Island coastal development
Yes, we should strive for clean air, clean water and protection of animal and plant species, although I'm not sure how far most of you really want to go in never accidentally killing a whale or oki`o hau-hele`ula, Hawaiian tree cotton.
But worrying about cultural damage from a ferry? Anybody been to Kihei, Kapaa or the Kapalua district lately? That's cultural sensitivity?

Count me among those who wish Honolulu's police chief would knock off having male and female cops troll the restrooms and streets seeking to be propositioned. It's sleazy and unnecessary.
I wonder: Does patrolman A, when asked by his kid what he does, say he hangs around in park toilets to see if anybody's looking at him taking a wiz? Or that she wears a tight, short skirt, hoping a cruising driver hits on her?
If there were some demanding need for this, OK. But the chief hasn't laid one out for us. Social studies show that those seeking sex use mutually recognized signals. They are not bothering straight men peeing in a public bathroom or ordinary women walking down a sidewalk.
No, what's going on is a morality play for those who don't want any of what they consider to be "improper" sex. Remember when cops used to raid private houses in Georgia to arrest homosexuals until the courts told them to stop?
But I'll give Honolulu police chief Boisse Correa the benefit of the doubt. Maybe he can show us how two guys or two women trying to do a consensual pickup in a park, or a guy in a car picking up a streetwalker in Chinatown, creates a dangerous criminal threat to the rest of us long asleep in our houses.
Remember: I'm not talking about having sex in a public setting. Correa's undercover special forces are out there nailing people thinking about having sex.
I'm also troubled by the Sen. Larry Craig case. Is a foot tap and a hand sliding along under the bathroom stall divider sex? I'm satisfied it was an invitation, but had the next-staller been an uninterested occupier rather than a cop, he'd have ignored the signal and that would have been that.
HPD's Correa, like the Minneapolis airport police, mainly has been working under the pressure of citizen morality groups desperate to wipe out "deviant" sex even in the thinking-about-it stage.
I'm sure Correa will spin it otherwise. Please keep your skepticism active when and if he does.

So you think some 1960s use of depleted uranium shells in practice rounds by Schofield Barracks tanks is an environmental hazard? Let me quote from the Atomic Energy Administration:
"Depleted uranium is three million times less radioactive than radium still found in many old luminous watches and 10 million times less radioactive than what is used in fire detectors."
Who are the people setting loose all these fear agendas in our communities.
.(JavaScript must be enabled to view this email address)
Most Recent Comment(s):