Cut Back Public Worker Benefits

By
.(JavaScript must be enabled to view this email address)
Wednesday - February 02, 2011
|
Share

Del.icio.us
I am not by ideology a union-worker basher - although some of our state/city pensions ($7 billion underfunded) and work rules deserve it.
Keep in mind that what those employees get - $320 million a month in paychecks, 14 paid holidays, medical insurance for life and free Part B Medicare - was given by the employers ... us.
We could have said no back when we did not have binding arbitration, only the strike. We had no stomach for strikes and said yes.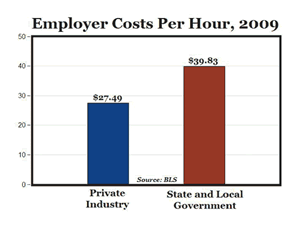 The latest compiled private government wages from the U.S. Dept. of Labor Statistics
This money-desperate year would be a good one for the Legislature to repeal arbitration and get us into the sometimes-take-the-strike mode. Otherwise, only a bump in excise or income taxes, or some layoffs, can make the budget whole.
Here's a story about union salaries at Carnegie Hall in New York City. The properties manager, the carpenters and the electricians have been making between $422,600 and $327,260 a year. Stagehands who move chairs have been averaging $290,000. They are all union members with Local 1 of the International Alliance of Theatrical Stage Employees. A strike in 2007 closed most Broadway shows for 19 days. Nobody wanted that again. So they paid.
There's no similar excess among our government workers. My question is whether we could have hired more by trimming health and retirement benefits to reflect the private sector. I get no pension for my 28 years at KGMB. No health coverage.
Fair wages, yes.
Benefits pegged to the private sector, yes. Maybe annuities and/or 401(k)s instead of fixed pensions. No binding arbitration.
Neil Abercrombie's pick of Catholic operative Marc Alexander as state homeless coordinator is a good political move. He's inclusive as a non-religious governor. Alexander is very smart. Yes, brings some faith-based ingredients into play. Can't hurt. That the ex-priest is a foe of abortion and same-gender marriage/civil unions doesn't matter. If he can come up with homeless solutions, I'll be first to say "bless you, Marc."
Also, Abercrombie's pick of Sabrina McKenna for the Supreme Court is meaningful. She should have been elevated earlier on merit but her liberal bent and lesbian lifestyle probably doomed her during the Lingle years.
Wonder why car insurance is expensive? I had a minor fender dent. Went to my favorite body shop in Kalihi: $500. The place my insurer uses in Kaimuki: $851.
Hello, new DLNR chief Bill Aila Jr. When will you roust those illegal T-shirt and certificate vendors on the Diamond Head trail? Enough already!
Most Recent Comment(s):