Death With Dignity

By
.(JavaScript must be enabled to view this email address)
Wednesday - September 24, 2008
|
Share

Del.icio.us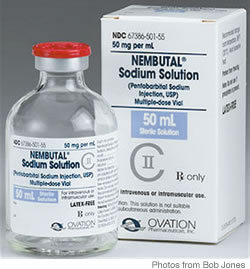 With Nembutal, you die quickly, painlessly in your sleep
There was an eye-popping story in The New York Times. It was about how people can go to Mexico and buy a guaranteed-death-dealing drug from veterinary pharmacies.
It's pentobarbital, usually sold as the liquid brand-name Nembutal, and it's meant to anesthetize and euthanize animals. Humans use a pill form for nervousness and sleeplessness. But in it's full-strength liquid form - well, by the time you take a big dose with juice (it tastes very bitter) you're starting to fall asleep. No odd things like barfing and having second thoughts. You quickly die.
How great if you're old and infirm, on your last legs and don't want to shoot yourself, hang yourself or stick a plastic bag over your head.
Yes, it's supposed to be sold only by prescription and the Times article will probably cause a crackdown. But it's Mexico, and in a year or less things will be back to normal.
That's good news for those of us who believe in the slogan "Born With Dignity, Died With Dignity." I may have many years left, but then again maybe not. I don't want to be old and crippled and hardly breathing, not seeing or hearing, and struggling to keep alive. Neither do I want to shoot, hang or suffocate myself. I want to go with dignity in my sleep.
I've been very iffy on doctor-assisted suicide. I don't know many doctors who want to assist. I don't like relatives of burden some people pushing doctors to do the deed. It's been a slope I've not been quite willing to slide on. The concept worries me if it allows anyone other than the dead-to-be to absolutely make the decision.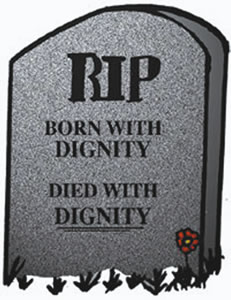 I like the Mexico pharmacy solution. Alas, I'd have to be alert enough to go there, or have somebody go there for me, and pay $65 for the fatal bottle.
I refuse to be ancient and stroke-ridden and crippled and barely kept alive in a bed and wheelchair. In those circumstances, I'm ready to call it quits. (I hope in a way that preserves my life insurance for my spouse.)
I was once a police reporter and I've seen too many people die horribly with various pills, oven gas, and bags. Believe me, you don't want that. With most of the pills people end up on the floor, dead but in extremis clawing their way toward the bathroom. The gas and bag-on-head people look disgusting.
I want that liquid Nembutal! Quickly go to sleep (no second thoughts) and quickly and quietly die with a smile (or at least not a grimace) on my face.
It's always fatal. None of that waking up not quite dead stuff.
So why not make it available without a prescription (it's a class II drug here)? Well, you know why. Moralists and religionists who say you've got to suck it up until the natural end.
Sorry, but many of us don't want to suck it up. We also don't want to blow our brains out in front of our families or hang ourselves from the backyard tree. It hurts and it's messy for others.
Nembutal. Swallow it and go to sleep.
Big deal. I'm a major sleeper anyway. I tell my wife, "Before you go to work, check to see if I'm really still asleep or ..."
Most Recent Comment(s):