Deploying Guard, Reserves Again

By
.(JavaScript must be enabled to view this email address)
Wednesday - April 16, 2008
|
Share

Del.icio.us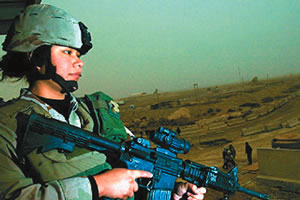 Hawaii's 29th Brigade is going back
We don't have the military draft now in America. Not on a technical level.
But we're yanking Hawaii Reserve and Guard people out of their jobs and schools and away from their families again for a Middle East gig. It's for security duty in Kuwait. That's an OK place - everybody gets active-duty pay, hazardous-duty pay and temporary duty allowances. Lots of booze available and women are allowed to drive there. Alas, the assignment often means accompanying convoys deep into Iraq - roadside bomb country.
This what the law calls a presidential prerogative during an emergency. Can G.W. really do that? Yes, he can.
Title 10 U.S.C. 12302 says that in time of national emergency declared only by the President, up to 1 million reserves can be called to active duty for not more than 24 consecutive months.
Section 12301(a) says that in time of national emergency declared by the Congress the entire reserve can be called to active duty for the duration plus six months.
Also, Section 12304 (amended last year) says that when the President deems it necessary up to 200,000 reserves can be called to active duty for 365 days.
Section 12301(b) says that at any time a service secretary can order any reservist to active duty for up to 15 days each year for operational missions as well as annual active duty for training.
Not everybody who's being called up again this year from our Guard 29th Brigade and the 100/442 Army Reserve battalion is bitching about it. I talked to one female E-4, a Hawaii Pacific University student and part-time bartender, who did the previous Iraq tour. She's single and looking forward to the experience and will do some of her HPU courses online.
But I have to guess there's more than a few spouses of Guard troops who said, "I told you to get out of the Guard last time you got called up!"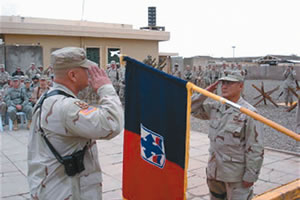 The National Guard and 100/442 will do a new Mideast tour
What happens if we get whacked by a bad earthquake or tsunami while the Guard is gone? Gov. Lingle could request Federal Emergency Management Agency help and with a presidential declaration of a disaster, assistance can include additional military support from active duty and reserve forces anywhere in America. But that takes some time and there's nothing like your own people helping your own people.
By law, everyone who's served 24 months gets full college tuition and books plus a $1,000 monthly stipend, or at least what active duty troops get ($1,075 a month in tuition benefits rather than the Guard's $860) when they come home. Do you know the Guard trooper loses that paltry school benefit the minute he leaves the Guard, so he has to re-enlist to keep it?

The fall-back position of government cry babies is, "Oooh, we don't have enough money."
State veterans' services director Mark Moses would have us believe Punchbowl cemetery is so nice and the state cemetery at Kaneohe so unkempt because the former has a $2 million budget while Kaneohe's is $500,000.
No, sir, the difference is in the directors. Punchbowl has Gene Castagnetti. He allows no improper behavior, no rules breaches and has recruited veterans as docents.
The Kaneohe cemetery does-n't just need more money. It needs a new overseer.

And finally, Hillary Clinton has lost me. It was that "ducking sniper fire in Tuzla" lie that did it. If she'd make up that, what else?
Most Recent Comment(s):