Did Truth Cost Case The Election?

By
.(JavaScript must be enabled to view this email address)
Wednesday - December 27, 2006
|
Share

Del.icio.us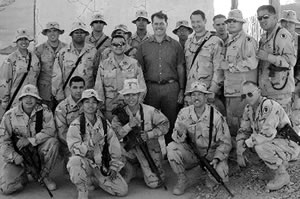 Ed Case with the National Guard
A journalist colleague and I sat down over drinks, fried chicken and namasu.
We thrashed out what cost Ed Case the U.S. Senate nomination. Being give-no-quarter, Type A males, we ended our evening agreeing to disagree.
My colleague believes Case lost because of his statement that if he had been in Congress at the time he would have voted to authorize the invasion of Iraq.
I believe Case lost because so many Democrats were uncomfortable with a young fellow's arrogance in trying to take the seat away from nice-old-guy Dan Akaka.
I'm right, of course, but that Iraq thing is worth tossing around.
I rate Case's statement to be confoundingly dumb from a say-what-voters-want-to-hear standpoint. Most people here were pretty sick of Iraq by primary election day 2006. Inouye, Akaka and Abercrombie had voted against the war. Surely Patsy Mink would have, too, if she had still been there. So what was in it for Case to say he would have been for the war when he could have said "I wasn't in Congress at the time, so I don't know how I'd have voted"?
I think he had a fit of telling the truth. And once it popped out, he was stuck with it. Some of the dish on Case as a campaigner is that he tended to be his own man rather than do the Akaka thing of saying what the handlers told him to say.
I really detest this mess we're in over the Middle East in general and Iraq in particular. The White House and the Pentagon made unpardonable mistakes and I'd like to see every soldier, airman and Marine home tomorrow because this war is definitely not "the price of freedom," as some like to say. Withdrawal could, I admit, lead to tribal uprisings in those other never-were-nations we Westerners created by lines on a desert map - Saudi Arabia, Jordan, Syria, Lebanon.
But like Case, I also might have voted for the invasion if it had been mine to vote on. I was as convinced as others by those cooked books shown us by the CIA and Secretary of State Colin Powell that Saddam was a serious threat to everybody's security and needed to be put down. I mean they wouldn't lie to us, would they?
Besides, there was reason to believe that an American air base presence in a peaceful postwar Iraq might tame the Iranians, the Syrians and the Palestinians. Uncle Sam would be right next door with an awfully big stick.
Alas, the Bush-Cheney-Rumsfeld triumvirate screwed up the peaceful postwar part big time and now we're goners there - but of course nobody wants to say that to our fighting men and women. They might start asking "what's the sense of dying?"
So if you didn't vote for Ed Case because of Iraq, that really wasn't a good reason. Most of America went along with the invasion when they heard about all those chemical and nuclear weapons Saddam was said to be hiding.
If you didn't vote for Case because you couldn't bring yourself to kick a loveable, huggy, 82-year-old man out the door on what's surely his last term, that's OK. You're in good, compassionate company. Voting with your heart instead of your brain is occasionally acceptable.
Most Recent Comment(s):