Do We All Need To Hear 911 Calls?

By
.(JavaScript must be enabled to view this email address)
Wednesday - June 27, 2007
|
Share

Del.icio.us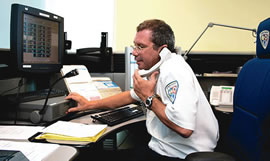 '911. Hold on, I'm patching you to the 6 o'clock news.'
It all came about because of a 1988 case. A Big Island court ruled that the news media can have access to tape recordings of 911 emergency calls, and that's stood ever since.
I come before the court of public opinion to argue that we've gone way overboard on that. I ask that you find for those in distress who are calling as they are being assaulted, raped or killed and not expecting to be sensational lead voice-items on the 6 o'clock news.
Here's what the Hilo court said in its ruling:
"In this world of media publicity and litigation, there is no realistic expectation of anonymity and, therefore, privacy when a person contacts the police with information."
I like the free flow of vital information, but I also respect some privacy issues.
911 is a public communication channel. The essence of that publicness depends somewhat on the system used. A landline call generally is private unless it is monitored through a court order. A cell phone call opens other arguments because there is a record of that call and it can be intercepted mid-air. But 911 is taped by the various county emergency services and those tapes are what the news media are accessing by that court decision.
I'd encourage a challenge to the Hawaii Uniform Information Practice Act (UIPA), which says that disclosure of a governmental record is required unless release "would constitute a clearly unwarranted invasion of privacy," or if the privacy interest of the individual outweighs the public interest in disclosure.
Here is my argument. There would seem to be no question that release of 911 tapes to the media is warranted under the UIPA if there were a question - by media or any citizen - if emergency services had handled a call appropriately and responded adequately.
That's why I've felt the 911 tapes in that case of the murder of Dana Ireland on the Big Island were releaseable. There was a substantial question if the first responders knew where the hell they were going (they didn't.)
The question of response only came up when the family raised it. It would seem that the family and its lawyers should have had first dibs on the tape, and then the media through them or in court proceedings.
My point is that we, the public, may have a right to know about 911 response. But what's happened as a result of the Hilo
ruling is that our TV news departments can use that public-access opening to play onair recordings of victims screaming or dying. It's more about voyeurism than information. Why do I need to hear some woman yelling on the phone that she's being killed?
Not everyone in the U.S. plays by Hawaii rules. Tapes of 911 emergency calls for an ambulance sought by Gannett newspapers in Louisiana were not released to the public because they were held to be confidential communications between a patient and a health-care provider (Hill v. East Baton Rouge Parish Department of Emergency Medical Services).
The biggest proponent of making 911 calls public has been the Radio & Television News Directors Association. Guess why? Who gets biggest audience thrill out of some woman screaming "my husband is stabbing me!"?
So let's take this back to court or to the Legislature.
Make the media go to court on each case and argue that there is public need to release those tapes. Sure, that means TV can't get them for same-night broadcast, but if TV news directors honestly care about public need-to-know, what's a couple of days' delay?
Most Recent Comment(s):