Don't You Dare Badmouth Santa

By
.(JavaScript must be enabled to view this email address)
Wednesday - December 21, 2011
|
Share

Del.icio.us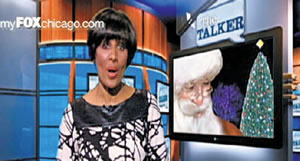 Robin Robinson of FOX Chicago offers an on-air apology. Photo from Bob Jones
I've taken a lot of stands on a lot of social issues during my many years as a TV news anchor and MidWeek columnist, but I've always known better than to get anywhere near the Santa Claus one.
Longtime Chicago FOX anchor Robin Robinson did and she really got burned.
She and a co-anchor were chatting about children's expectations of all those gifts from the North Pole at Christmas. Robinson tossed this out:
"Stop trying to convince your kids that Santa is Santa. That's why they have these high expectations. They know you can't afford it, so what do they do? Just ask some man in a red suit. There is no Santa."
Oops! There went the phones, the you've-gotemail dinger and the fax machine.
Well, no surprise, station management ordered her to make an on-air apology and she did.
"It was careless and callous to say ... what I said, in what could've been mixed company. So many kids don't get to be children, that for those who do get to live the wonder and magic of Christmas, I would never spoil it intentionally. So I sincerely apologize. We have certainly heard how you feel about my mistake."
But there was an explosion of Internet chat right away. It was pretty mixed, and that's because so many young children use the Web these days. And if they happen to go to Wikipedia they will find this: "Santa Claus is a fictional giftgiving figure in various cultures who distributes presents on Christmas Eve."
I guess most all of you of adult age have seen "Yes, Virginia, There Is A Santa Claus," a famous letter to the editor and response that ran in the New York Sun in 1897, which assures 8-year-old Virginia O'Hanlon that Saint Nick is real.
One of the Internet comments that got the most response is this one posted anonymously:
"My daughter is 8, and she still tentatively believes. She's asked me if Santa is real. I told here that there's no scientific evidence to support his presence, just like the tooth fairy, wizards and unicorns. She has made a conscious decision to believe. As she says, 'Well, Mom, if Santa is real and he's magic, then scientists wouldn't know he was real because he would use his magic to hide.'"
OK so far. But then mom added that she told her daughter there's no scientific evidence for God, either.
Oops. The Internet fur went flying again.
My advice to TV anchors and columnists (and maybe moms and dads) is: Don't publicly touch God or Santa Claus or the tooth fairy. It's also marginal to discuss wizards in this Harry Potter age.
And you dare not suggest that nobody will watch this Saturday's Hawaii Bowl match between D-list Nevada and Southern Mississippi.
Unicorns, however, are still OK to diss.

I say those visiting veterans of the Greatest Generations Foundation are not to be given our aloha. They had an area at Punchbowl cemetery to perform a memorial service this month. But some wandered far away and into an area reserved for Hawaii Five-O shooting. The film crew asked them to be quiet because shooting was in progress.
They didn't want to be shushed and gave the film crew "the middle finger."
Definitely not the Greatest Guys.

Our 8-foot Christmas tree is up. It's a Leyland cypress. No needles to drop. No sneeze-causing emissions. Greenest green and will last five weeks.
Merry Christmas to all. (I'm not a "happy holidays" kind of guy.)
Most Recent Comment(s):