Doubting Human Role In Warming

By
.(JavaScript must be enabled to view this email address)
Wednesday - July 11, 2007
|
Share

Del.icio.us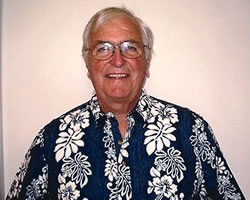 Michael R. Fox
The Intergovernmental Panel on Climate Change says the increase in global temperatures is "very likely due to the observed increase of man-made greenhouse gas concentrations."
Those scientists define the term very likely as "more than 90 percent certain."
They haven't persuaded Michael R. Fox, Ph.D., until recently of Kaneohe and now living in Washington state.
Fox, a scientist with all the right credentials, is an energy analyst for the Grassroots Institute of Hawaii. Warming of planet Earth, he says, has been a natural phenomenon over time, and getting all antsy about man-made carbon emissions is an unnecessary hit on our economic well-being.
He's not much on ecosystem-preservation laws, either. I'll take that up later.
Fox's take is that "over the past million years there have been about 600 warming periods and about 599 cooling periods. This is no time for hysterics, and never time for bad energy legislation."
As for the major scientific worry that warming will cause rising seas that will inundate coastlines as the polar ice melts, Fox writes:
"Many studies show that sea level rises are not a major source of alarm. The world's longest set of sea-level observations have been kept in Sweden for more than a thousand years. According to Swedish scientist M. Ekman, since 8900 A.D. the sea-level variations have been between minus .5 millimeters per year to plus .5 millimeters per year, with an average of about zero. Other sources using differing time periods show sea-level increases of about 1.5 millimeters per year, still not a source of panic."
However, Geophysical Research Letters of June 15 cites a study predicting that "once-rare heat waves, like that of 2003 which killed 15,000 in France, will become more intense and more common as the number of dangerously hot days in the region increases 200 to 500 percent."
Now can I panic?
Well, maybe not, but I employ common sense. There may be no unanimously greeted evidence that global warming is all man-made rather than part natural cycle. But the evidence seems overwhelming that carbon emissions cannot be helping keep the planet cool. There is a definite likelihood they contribute to the warming, even if they're not the primary cause (which they might be).
So wouldn't the prudent person cut back on everything suspected as a contributor?
Not Fox. "CO2 (carbon dioxide) represents less than 3 percent of the total greenhouse gas inventory, and a very small fraction of that is man-made CO2, which is largely from transportation fuels (air and ground) and the huge amounts of oil and coal burned in Hawaii to produce electricity. CO2 is a nutrient for plant photosynthesis and essential to nearly all life.
"Thus, to control all aspect of our lives would be a bureaucrat's dream and a nightmare for a free society."
Fox also is an outspoken opponent of conservation biology and the so-called "green" scientists that brought on most of our environmental laws.
He has said: "Conservation biology is based on the unproven
assumption that nature knows best. That all human use and activity should follow natural patterns within relatively homogenous soil-vegetation-hydrology landscapes called ecosystems.
"Since ecosystems cross man-made property lines, and since conservation biology calls for holistic management of entire ecosystems to ostensibly protect the perceived fragile web of life, environmental law HAD to be superior to property rights."
Some scientists use the "precautionary principle," Fox has said. "As a theory, it is on shaky ground. In fact, it would be better geared as a tool in a witch hunt than by scientists grounded in unpoliticized science."
So, should we listen to the majority science view that carbon emissions contribute to global warming and that we must protect fragile life forms with eco-laws? Or wait and see if the minority was right?
My read: In baseball, if you get caught looking at strike three it's just a strikeout. Nobody dies. Severe climate and environmental damage, however, isn't just a no-harm game.

State Rep. Will Espero recently returned from a Shanghai junket, lavishing praise on that city and its magnetic-levitation train to the airport. He said nothing
about the godawful pollution that has many American businessmen asking for transfers so their kids can have breathable air, and the impossible traffic. I guess we see what we want to see.

Help! I'm paying $3,676.92 a year for basic fire and hurricane coverage for my very ordinary house, not on the beach. Gouge? You bet! How about you? I'd like to hear some of your stories for a possible column. Something's seriously out of whack when you've gotta pay $10.07 a day for home insurance.
Most Recent Comment(s):