Dream Treehouse In Waipio Valley

By
.(JavaScript must be enabled to view this email address)
Wednesday - September 19, 2007
|
Share

Del.icio.us
I guess if I had $1,050,000 in my bank account I might buy Linda Beech's tree house in Waipio Valley on the Big Island. Actually, make that Treehouse with a capital "T" and no space - her spelling.
You're wondering why I'd use this column to tout a real estate offering?
Treehouse isn't just real estate. It's a fantasy for all Robinson Crusoe fans. Me, too, from the day I first laid eyes on it after a long, soggy hike deep into Waipio, having wrongly taken the left rather than the right fork and ending up at Hiilawe waterfall but nowhere near the Treehouse until another long, soggy hike.
But where to start my story of the incredible house up in the branches, like Tarzan and Jane's place?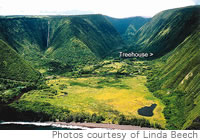 Proving again that it's all about location, location, location
Maybe I'll start with the movie (from the book) Flags Of Our Fathers, the story of the planting of the U.S. flag atop Mt. Suribachi on Iwo Jima in WWII. The Marine combat correspondent sent to accompany the flag raisers on a cross-USA bond-raising tour was Keyes Beech. He became a famous foreign correspondent for the Chicago Daily News and married Linda Mangelsdorf, Punahou girl, Japanese language school student, who became a major Japanese TV celebrity (Blue Eyes Tokyo Dairy) of the '50s and '60s - much more famous in Japan than Keyes. How's that for a book plot?
But wait, it gets better! "When I was 4 my mother had read me a beautiful book about a thinly disguised Waipio Valley," Linda Beech says, "and I decided that some day I'd live there."
So when one of her sons, Kimo, said he wanted to be a farmer, Linda started looking for a place in her old home state of Hawaii. She and Keyes had divorced (Keyes died in 1990, Kimo in 1985.) Linda found a two-acre plot for sale in deepest Waipio Valley. The last structure on it had been a grass hut. There was a giant monkeypod tree. A plan took shape.
"The Treehouse was built by Steven Oldfather and Eric Johnson, who are better known for being excellent boat builders, and they did an outstanding job. It is built on stainless steel pins and it's just as level now as when it was built in 1973. The tree was then estimated to be 175 years old, which now means that it's well into its second century.
"About 12 years after we built the place, Kimo thought we should rent the Treehouse so that visitors could have a place to stay in Waipio and he could live down here full time, and share his love of the valley and its magical plants."
Treehouse became an instant international hit, written up by every big travel magazine. But there were some downsides. Linda went through very expensive legal hassles with the county over whether Treehouse qualified as a B&B or a vacation rental (it was adjudged the latter.) The valley-floor roads remained unpaved. There were frequent floods. A vacationer could easily be stranded if the Waipio streams became too dangerous to cross by vehicle. People have died trying to cross them in full flood.
Linda Beech's Waipio Valley Treehouse is for sale
But what a place! Your complete house, and even your toilet, up in a tree and looking at Hiilawe waterfall - what there was of it when the sugar people diverted one of the two falls. Now you get two.
Linda Beech is 82. Maintaining the remote property has become too much for her. So it's for sale. When she said it's for sale I thought "oh, my God, let's sell our Oahu house and buy Linda's!" But my wife's more grounded than I am. I had also wanted to move to Costa Rica. Or Uruguay.
But be honest, guys. Haven't you ever dreamed of living in a tree house in the most gorgeous valley in the U.S., the fridge filled with cold Kona Longboard and Gabby Pahinui or Raiatea Helm on the CD?
Of course, it is an arduous trip topside to refuel with Kona Longboard.
Most Recent Comment(s):