End Of The Car, McCain's Planes

By
.(JavaScript must be enabled to view this email address)
Wednesday - July 16, 2008
|
Share

Del.icio.us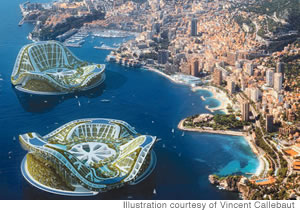 How offshore communities might look
"People are deserting their cars for trains and buses and, where available, light rail. We haven't seen a transition on this scale away from cars ever before." - Former U.S. Labor Secretary Robert Reich.
The intense rail argument isn't only about transit choice. No, this is the overdue envisioning of where we see ourselves three to 10 decades from now.
Architect Vincent Callebaut thinks coastal-city dwellers eventually will need offshore communi-ties. We're running out of room and the sea level's rising.
In 1952, Clifford Simak published his novel City, a vision of people abandoning cities for the suburbs. Americans were in full flight to the country for reasons of room, city crime and racial unrest. Cities ruled the first half of the 20th century; the second half belonged to the suburbs. Cities are on the rise again. Mass transportation will make ours more attractive than it already is.
Life with the car here is coming to an end. We'll be doing rail and bus and boat - bikes and mopeds, too. Plenty of lifestyle change. If a family can't have cars, that means no kids going to soccer or piano lessons unless they're old enough to use mass transit. No casual trips to small shops, outlying restaurants or many current supermarket locations. Life will revolve around home, work and transit stops with retail shops. High-rise apartments near transit stations will be much in demand.
We'll have to build up. Sprawling housing developments kill open space. We've run out of suburbs to run to. We may Keep The Country Country by limiting building permits for the North Shore, but those areas are not going to become farmlands. There's little money in farming on an island of a million people. I can't keep paying $7 for a dozen Blue Lotus Farm eggs.
What is going to change radically for us is transportation. Yes, we will still be able to go by car; maybe 90 minutes into downtown from Kapolei. Or, car to a transit park, train to downtown, bus to work or whatever, and reverse that at night. Still at least an hour. All that while you have a $3,000-a-month mortgage? No, you're going to say, "Let's move closer to downtown" or "Let's move to a transit stop."
Since I favor rail transit as the best solution, you might ask why I don't favor putting rail on the ballot for a vote. Because I'm a non-initiative-and-referendum guy. We elect a mayor and councilmembers to make the big decisions. Few places still make them at Town Hall meetings by an emotional show of hands.
And Panos Prevedouros for mayor? Well, no incumbent should go unchallenged, but Mr. P hoists a very limp flag. Elect a college professor with no political experience to run the 12th largest metropolis in the United States? Not gonna happen.

In all the squabbling between the governor and the BOE over who pays for random drug testing of teachers, has anyone asked why we need the tests?
Have we had drug-crazed teachers going berserk on campus or confusing H2O with H2O2 in class?
We test bus drivers as an essential safety issue. If a teacher performs OK at work but quietly smokes or snorts at home, what's the harm - except to him or herself?
The evidence at hand says testing is unnecessary. Next, somebody will want to test for sexual preference.

Why all the fuss over retired Gen. Wesley Clark saying of John McCain: "I don't think riding in a fighter plane and getting shot down is a qualification to be president"?
That's true. Flying's about good coordination. Carrier flying is about great coordination. But McCain lost two airplanes purely through pilot error.
Clark should have said, "This guy graduated No. 790 out of 795 in his Naval Academy class and had enough demerits to get the non-son-of-an-admiral-family kicked out. But he's a senator now and I guess as qualified as anyone to run for president - but not be one."

I like our bus drivers. Maybe $50,000-60,000 a year with overtime isn't outlandish - unless you're a schoolteacher with a master's degree and making much less.
I do think the new TheBus contract is inflationary. Twenty-one percent over five years, a 100 percent health and welfare plan, bigger pensions.
Did you know that bus drivers can pile up their vacation and sick time and retire many months early? None of us in private industry can do that.
Union contracts with the city and state tend to be very sweet. Democratic Party chairman Brian Schatz wonders why liberals go soft on unions. It's because we've seen government perks exceed what anyone can get on the outside, we pay with taxes and we'll bleed unless we're more willing to suffer strikes to tamper the bleeding.
Look at the no-strike-no-threat bonanza Gov. Lingle gave the UH faculty union to get its endorsement.
Most Recent Comment(s):