Eyeing Eastwood's 'Flags' Film

By
.(JavaScript must be enabled to view this email address)
Wednesday - November 08, 2006
|
Share

Del.icio.us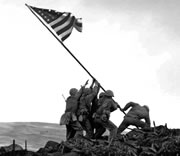 The Suribachi flag-raising of
February 1945
I began this MidWeek column 18 years ago with an analysis of the Vietnam War movies Platoon, Full Metal Jacket and Hamburger Hill.
So this week I'll go for a war flick again, Clint Eastwood's Flags of Our Fathers.
This is the tougher write. I know a lot about the Vietnam War. But I was just 9 years, 1 month and 4 days old when that famous American flag was raised atop "Mount" Suribachi (only 546 feet; Diamond Head is 762 feet) on Iwo Jima during World War II.
And maybe that's why the movie didn't knock my socks off the way Platoon and Hamburger Hill did (Full Metal Jacket was just ridiculous).
I suspect some other things are in play. I'll toss them out and see what bounces back in my face.
If you saw Saving Private Ryan then it was a waste of time for Eastwood to have tried to match that movie's ground-breaking depiction of the horror of World War II beach landings.
Also, this movie had no A-List (or even B-List) stars. I didn't have a clue who those men were who played Bradley, Gagnon and Hayes, or the Marine PR guy, Keyes Beech. (I would come to know Beech in Vietnam. His widow Linda runs a tree-top B&B in Waipio Valley.)
The most fatal of errors is that while James Bradley's book spends most of its time helping us get to know the three young heroes of the flag-raising incident, the movie just dumps them in our laps. We're never told, for instance, that Ira Hayes had a drinking problem long before he went into the Marine Corps, into combat, or on that war-bond tour. We're not told that as a Pima Indian, he wasn't recognized as a citizen in his home state of Arizona, and couldn't vote or sue in any court.
I'm glad Eastwood made the movie because most people won't plow through the 540 slow pages of the book, and we need to know more about how we create war images at home. In a later war, we wouldn't buy that Bush-in-flight-gear "Mission Accomplished" baloney. Most people just talked about how the flight-suit straps enhanced George's crotch!
I think all the discussion about the first flag vs. the second flag on Suribachi is a sideshow. And was it staged? Well, sure, in a sense. Battle-weary GIs don't make a production of raising a flag when there's still shooting going on unless somebody with silver oak leaves or eagles on his shoulders or collar tells them to. Remember what happened to a careless John Wayne in the 1949 movie Sands of Iwo Jima?
Critics also point out that Eastwood's movie is mostly a polemic against what he perceives as a PR-driven war-bond tour, while the book deals with the tour in one chapter. I guess that's fair, to show how Americans are moved more by carefully crafted imagery than analysis of facts. But there was a World War going and we did need to raise the money for it.
Back then, fighting really bad guys, Americans sacrificed mightily to support the war effort. Today, we go about our business as if Iraq and Afghanistan are irritating flea bites in our lives - unless you've lost a son, daughter, husband or wife. We're leading ordinary lives and the stock market's been gangbusters despite that $8.3 trillion national debt. I wish I owned some Halliburton. Then maybe I'd want to take on Iran and North Korea, too - bring 'em on!
I'm sure you'll let me know if I've nailed this one or just hit my thumb.
Most Recent Comment(s):