Ferry To Nowhere; Drug Searches

By
.(JavaScript must be enabled to view this email address)
Wednesday - October 17, 2007
|
Share

Del.icio.us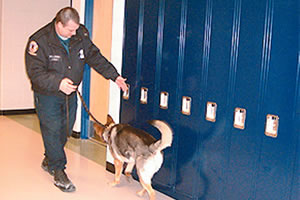 A drug-sniffing doh searches school lockers
I'm a fellow driven by common sense and principle - one reason why I've never considered standing for public office, where compromise, strategic vote-counting and happiness of contributors often hold sway.
That in mind, let's go over the Superferry and school-drug-search stories.
* Where was Maui Judge Joe Cardoza's common sense in allowing 29 witnesses and weeks of testimony to then say he was sticking to a strict reading of our environmental law No. 343? I mean, even if a side wanted more evidentiary sessions, Cardoza could have said "I'm ruling on statutory law. Submit your briefs."
* I cannot imagine what principle Gov. Lingle would claim she's defending in refusing to release a copy of the AG's advice to her about the need for an environmental assessment. Mark Bennett may be appointed by her, but he works for us and we pay him. That written or oral opinion will certainly be subpoenaed anyway if there's a lawsuit if the Superferry fails.
* Common sense says that just because the anti-ferry suit by Maui Tomorrow and the Sierra Club was brought on the Valley Island, Cardoza's strict reading of the law should apply to Nawiliwili and Kawaihae, too. Right? Otherwise, our law is all about technicalities of when you file a suit, etcetera. Not common sense.
* Lastly, you've probably figured out that I am pro-ferry service. I'd like many ferry boats zipping between islands just as they do around Seattle and in Hong Kong. We're long overdue for heavy-duty, inter-island ferry service. But a special session of the Legislature to amend the law to specifically exempt the Superferry? That violates my sense of principle, even if the end result pleases me.
Now let's look over the public school teachers' contract that permits random drug testing and the issue of searching schoolkids' lockers for contraband. The two need to be separated.
On principle, I'd never have voted as a teacher for random drug testing. Now some teachers represented by the ACLU are suing and claiming they were coerced because they couldn't get pay raises unless they signed the contract with that proviso in it.
I say tough luck, teachers. You did sign it - the majority of you. You're acting like Sen. Larry Craig: "I was frightened into pleading guilty."
Well, whatever, but you did it and that's that. Sometimes the ACLU gets far out front of the rest of us applying common sense.
But I'm on the no-locker-search side of the question before the Board of Education.
Some say, hey, you have to submit to a search to get on an airplane. Flying is voluntary. School is not. I don't object to searches for weapons to get onto the campus. That's to protect all students. But there's paltry evidence to support a claim that a student on drugs constitutes a deadly threat to others. So far, anyway.
No big deal? It is a big deal. We need to carefully protect all incursions into our Constitutional right to avoid search and seizure without probable cause and a warrant, or hot pursuit. Students inherited that right, too.
Iowa has enacted a state law to buttress that. It says that it is unlawful for a public or non-public school official (defined as a licensed employee and unlicensed employees employed for security or supervision purposes) to conduct a random, suspicionless search of any student or group of students.
The teachers signed their rights away. Sad but true. Not everyone has the good sense to stand up for common sense or even principle.
Most Recent Comment(s):