Finding Good Deals In West Maui

By
.(JavaScript must be enabled to view this email address)
Wednesday - July 30, 2008
|
Share

Del.icio.us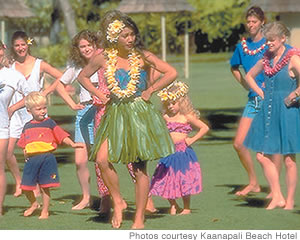 Tourists learn hula at the Kaanapali Beach Hotel
News Item: Maui Land and Pine will lay off 274 workers, 26 percent of its workforce, at its West Maui pineapple fields and its Kapalua Resort.
This is much worse than the goodbye to West Maui sugar almost 50 years ago. There were many people out of work then, too, but Kaanapali land owner Amfac started a resort complex.
Pioneer Mill was no longer supplying jobs, housing, water or electricity. Maybe it was shameful how Amfac strong-armed the State Land Use Commission into hotel rezoning and how politically connected people made big money on insider real estate deals. But the truth is that booming tourism was the only alternative to economic collapse on West Maui.
Today, tourism is slowing. It's not going to be a snap for laid off ML&P people to find hotel jobs
That Kaanapali-Kapalua thing started slowly in the 1960s. The Royal Lahaina in '62, then the Sheraton Maui and the Kaanapali Beach Hotel. The pace picked up and now there are seven resorts on Kaanapali Beach, and 54 hotels out to the Ritz-Carlton Kapalua.
A national travel journalist wrote that what you see is "a paved paradise distinctly lacking in soul but with lots of sunshine and golf."
The once no-rise Royal Lahaina is being rebuilt with one 12-story tower and villas for sale at $3 million to $10 million. The first hotel time share in America was the Kaanapali Beach Destination Resort. It was started by Conrad Hilton, Fritz Burns, Greg Dillon, Ed Hastings, Erik Jacobsen and Bob Svoboda in 1965.
The beaches are public. You can walk in. But if you want to park, you'll probably pay mightily. There are five small, free, poorly marked lots along Kaanapali Resort (see Andrew Doughty's Maui Revealed for maps of those) that fill quickly with surfers. Self-parking even for paying guests at the hotels is $9-$12 plus tax per 24-hour period. For beach parking at Whaler's, you get three hours validation if you spend at least $10. That's a nobrainer at Hula's and Leilani's grills - the former home of great mai tais and super wait help.
Kaanapali hotels check-in time is now 3 p.m. and check-out at 11 a.m., so you're paying about $25 an hour for your room and sleeping through most of that.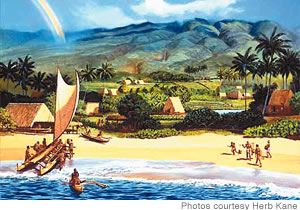 Beach Hotel Artist Herb Kane's concept of early Kaanapali beach
The Kaanapali Beach Hotel is most interesting because it has no grottos or water slides or pool bars. It runs serious cultural programs for visitors and even has a low-salt-and-fat Hawaiian food diet available for guests and employees. Maybe that's because the general manager is local boy Mike White, a Knudsen and Sinclair by blood, who was a state representative on the House Tourism Committee in the '90s.
The Hawaiian ali'i used Kaanapali as a playground for canoe racing and ulu maika. Also site of one of the bloodiest battles - the 8,000-man clash at Koko O Na Moku at today's intersection of Kaanapali Parkway and Nohea Kai Drive. Yep, the golf course.
It's still an ali'i recreation area - these fly in from Japan, Canada and the Mainland, and can afford $350-$600 a night for a soso hotel room plus excise and transient taxes, plus rental car, parking and golf greens fees.
Going? Make a side trip south to the eye-popping Maui Ocean Center at Maalaea, which makes our Waikiki Aquarium look undernourished. Also drive clockwise around the northern tip of West Maui to the village of Kahakuloa where Mary Worrall Realty is selling 153 acres for "ag-estate" for $2 million. Buy banana bread from Julia's bright-green stand on the one-lane road. It's worth the scary drive.
Lodging deal: the Lahaina Shores seven-story hotel-condo on the beach at the town's southern end. How that got zoning in the '70s is probably a story in itself. Kitchenette/balcony/ocean rooms for about $200 a night. The Pacific O restaurant, Feast at Lele (see the show free from your balcony!), a pizzeria and a liquor store next door.
Editor's Note: Regarding the letter in this issue from UH law dean Avi Soifer, Mr. Jones says his column did not contain "errors."Craven's and Soifer's versions of the firing simply differ. And while it is true that the 9th Circuit Court of Appeals made no "finding" (legal term), it did "find" (layman's term) enough evidence of prejudice against females and Asians to deny the UH summary judgment and dismissal of the lawsuit.
Most Recent Comment(s):