Fixing Immigration, Social Security

By
.(JavaScript must be enabled to view this email address)
Wednesday - June 13, 2007
|
Share

Del.icio.us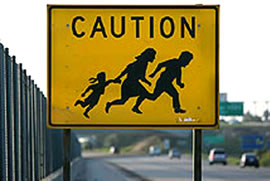 Beware, immigrants crossing
Those two sticky national matters of immigration and salvaging Social Security could be solved in an eye blink. It would only require lawmakers voting for the obvious right things.
So maybe a few would be dumped by angry special interest blocs in 2008. But if I were one of the vulnerable I'd still do the right thing, knowing there's damn little chance of repeal by the next Congress. Most dissenting Americans would briefly grumble, then say "oh, the hell with it" and get on with their lives.
The right thing with immigration isn't very hard to come by. We have between 10 million to 12 million illegal aliens in the country. We cannot possibly find them all. We can't expect them to pay a fine, go back where they came from, and wait years to apply for a green card visa.
The right solution is to grant amnesty to all those who come in within a time limit to be documented, security checked and issued identity cards honored like citizenship if they are currently employed and free of felony records. No fines. No deportation. No back taxes. Then ratchet up the fines for American employers who employ those without the new, non-forgettable identity/visa cards. Allow security-checked family members to join documented persons in the U.S.
Social Security can be put on solid footing without a big hassle, too.
First, we should raise the taxable ceiling to 100 percent of all earnings, not just the first $97,500 of salary as we do now. Second, we should either deny SS payments to retirees with very high incomes and net worth, or at least reinstate an earnings test that reduces the SS payments to retirees with very high income. The principle of Social Security never envisioned that just because you contributed to the fund you are entitled to get it back. It was meant as a security net for older people without large means.
Second, we can actually reduce what employers pay into the fund if we find a revenue-neutral tax that offsets that loss. Even some very pro-business thinkers support a carbon tax for that. It would penalize businesses that don't get energy efficient. Those that do would be able to hire more workers, adding more total SS funds to the pot.
We should not support putting a portion of SS funds into equity index funds because such huge government infusions could influence the markets. We should not support allowing individuals to invest for their own SS because, as I said earlier, those contributions should not be automatic "come backs" but a kind of tax into a pot for the public welfare. Maybe you'll need the help. Maybe not. Bill Gates would quality as a "not."

Hawaii GOP Rep. Kymberly Marcos Pine of Ewa Beach complains that "the smoke from the political backrooms at the Capitol has barely cleared, but the writing on the wall is clear to see: Our latest session - dominated, controlled and manipulated by power-consuming Democrats and union bosses - gets a "D" for disappointing."
The charges of power-consuming Democrats and union bosses and a grade of D aside, you have to wish Pine's professors at UC-Berkeley had washed those trite terms about "writing on the wall" and smoke-filled back rooms (two words, Kym) from her vocabulary.
Most Recent Comment(s):