Flashing X-walks; Waikele Beating

By
.(JavaScript must be enabled to view this email address)
Wednesday - March 07, 2007
|
Share

Del.icio.us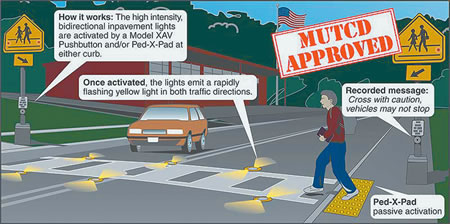 Flashing crosswalks could make it safer for pedestrians
I guess all those MidWeek columns I've written urging this city to install flashing, set-in-the-pavement lights at major and most dangerous crosswalks just flew off into the ether.
Now, everybody's saying "oh, my goodness, we need to do something about all those pedestrians being hit."
I'm including a graphic on exactly how the flashing, inset-lights system works. Is anyone at City Hall paying attention?
Lightguard Systems or Traffic Safety Corp. can show you how to do it.

I tend to agree with the city prosecutor and some academic observers that the Waikele Center parking lot beating of an Army couple by two locals was more traffic incident rage than hate crime.
Still, it's pretty obvious from what witnesses claim was said by either Gerald Paakaula, his wife or their 16-year-old son falls into that well-known category of locals using the word "haole" preceded by another word that starts with "f."
I don't agree with a statement attributed to UH Hawaiian Studies chairman Jonathan Osorio that "when people start calling something like this a hate crime it starts to ramp up the public temperature over race in Hawaii, and I don't think we need that."
We do need to face the issue because it's there in our faces. It's been there my whole time in Hawaii. It was the centerpiece of the severe beating of banker Steve Van Lier Ribbink at Waimanalo Beach three years ago by Manuel and Robert Kupahu.
It's about resentment and it seems to spring most vigorously from our poorest Hawaiian communities. Paakaula is from Waianae and Kupahu from Waimanalo.
Hawaiian professor Osorio saying the Waikele incident was just fender-bender rage and to "leave the rest of us out of it" is unacademic denial of the worst kind.
Agreed, there's no need for a community uproar over this single incident (albeit community outrage that the Paakaulas would so severely beat Andrew and Dawn Dussell over a minor parking stall bump) but that "f" haole term should trouble all of us.
It's too common. We never hear the terms "f" Hawaiian or "f" Japanese or "f" Filipino, do we?
So what's going on here?

There's an obvious flaw in Mayor Hannemann's pitch to charge $10 for a second trash pickup within a week.
Those who don't have bins may haul trash bags out to the streets and let them sit and be torn apart by rats, cats and dogs.
Or they'll be dumping at schools, churches, theaters and supermarkets.
Most Recent Comment(s):