Gen. Weyand Liberates The Army

By
.(JavaScript must be enabled to view this email address)
Wednesday - July 04, 2007
|
Share

Del.icio.us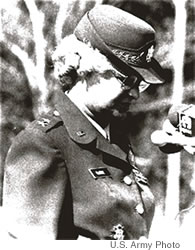 Brig. Gen. Mary Clarke
It was 29 years ago this month, in 1978, that our Secretary of Defense sent Congress the draft law to end the Women's Army Corps (WACs) and integrate females in the armed forces.
It took an act of Congress three years later to make it so. But you should know that retired Gen. Fred Weyand of Honolulu, then Army Chief of Staff, is the guy who signed the order ending his service's foot dragging on the WACs.
After the Vietnam War, the Pentagon realized that 8 percent of its men-only military occupation specialties (MOS) could be filled by women, and 16 percent of its officer duties, too. Of course, that depended on how close to a battlefield women would be allowed.
A1977 study said military units with up to 35 percent women would show no adverse effect on performance. But the Army's manpower overseer of the time, Maj. Gen. Julius Becton Jr., claimed the study was faulty and rejected it. A second study confirmed the first and recommended that women be permitted as close to the battle zone as necessary to perform their duties. It also said men accepted women in military leadership roles if the women were competent.
Russia and Israel had long used women as tank and infantry commanders.
The military services were told to submit proposals to double their women in key positions. Only the Marines did so. The Navy and Air Force said women could not be doubled unless Congress removed restrictions on them serving on ships and as pilots.
The Army just flat-out said no. It objected to 31 of the points of female integration in the Pentagon proposals.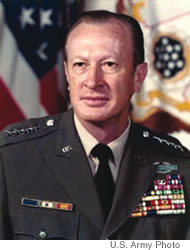 Gen. Fred Weyland
But Fred Weyand, former head of Hawaii's 25th Division and known as not one of those hoary old-timers who saw a woman's place in the kitchen, dragged his service (it wasn't happy) to the table. On April 23, 1977, Weyand ordered up legislation to eliminate the director of the Women's Army Corps. He wrote that he believed "the Army should now take the positive actions necessary to officially lay the WACs to rest and formalize its members' integration in the Army."
Weyand's act was the beginning
of the end of separate women's armed services. Defense Secretary Harold Brown would tell Congress: "This action reflects the integration of women in the Army's activities ... it recognizes the role of women as full partners in our national defense, with full opportunity to progress with their male counterparts."
The Army's last WAC chief, then Brig. Gen. Mary Clarke, who had gone into uniform at age 20, was re-assigned as commanding
general of the Military Police Center at Fort McClellan, Ala., and got another star.
It was the first time a woman had been named to command an Army post other than in the judicial, chaplain or medical branches.

Here's one of the most saddening news story leads of our time, from an AP filing on our troops in Iraq:
"More than 800 of them have lost an arm, a leg, fingers or toes. More than 100 are blind.
"Dozens need tubes and machines to keep them alive.
"Hundreds are disfigured by burns, and thousands have brain injuries and mangled minds."
The estimated cost of their lifetime treatment is at least $250 billion and perhaps as much as $650 billion.
Most Recent Comment(s):