Gender Identity; No Veils Allowed

By
.(JavaScript must be enabled to view this email address)
Wednesday - September 28, 2011
|
Share

Del.icio.us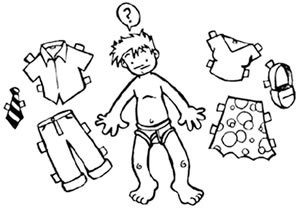 Graphic courtesy of CHATpdx Blog
Maybe you saw the story. A couple in Toronto is keeping the gender of their baby a secret. David Stocker and Kathy Witterick say "the whole world knowing what is between the baby's legs is unhealthy, unsafe and voyeuristic."
The couple already has two boys, Jazz and Rio, whom they encourage to dress in either boys' or girls' clothing whatever they feel like. Canadian critics say that's bad social experimentation with children.
Women in the West do more and more dress similar to men, but it's still unseemly for men to dress in women's clothing.
Sex change is, of course, another issue altogther. Honolulu had two famous man-to-woman cases in the '60s, two very well-known Forbidden City strippers. (I don't think the men who dated them knew!) Today, it's common. Tracy Ryan is Libertarian Party vice chairwoman and Kim Coco Iwamoto was on the elected school board.
Assigning gender qualities to kids is something else. I heard a woman at Kaimana Beach who was washing her unwilling young boy under a cold water faucet, him squealing and her saying, "What, are you a girl? Whining like that. Are you a girl, huh?"
I do think it's a little ridiculous when I see a 3or 4-year-old girl at the beach wearing the upper part of a twopiece swimsuit. I guess it preps for later life. At least they don't wear thongs!
Polynesia has a long history of gender-based tolerance. Fa'afafine is a third gender specific to Samoan culture. According to Wikipedia:
"Fa'afafine are biological males who have a strong feminine gender orientation, which the Samoan parents recognize quite early in childhood, and then raise them as female children or rather 'third gender' children."
Wikipedia says it is a mistake to call Samoan fa'afafine "gay" or "homosexual" because they may have sex with women, men or other fa'afafine.

Australia wants to make Muslim women lift their veils for the police. Civil liberties groups cry "discrimination."
Hey, it's not about Muslims. It's about facial recognition.
Otherwise it's ridiculous. Next, someone will want a driver's license in full hijab? "Hi, officer, it's me. You'll just have to take my word on that."
Or imagine the mug shots. Hijab in a Muslim country. No problem. Outside, gotta show your face. It's how we work. It's overplaying that "sensitivity" card to say otherwise.
Personally, I think moves by France and other countries to make Muslim women and girls in their midst remove head scarves as "culturally inappropriate" is politically inappropriate.
Imagine us demanding that orthodox Jews cut their beards or remove their hats or something similar with our Amish people.
Most all nations are now culturally diverse and are better off for that.
But covering the face? Gotta leave that at home.
Most Recent Comment(s):