Getting Off The Fence: Leave Iraq

By
.(JavaScript must be enabled to view this email address)
Wednesday - May 09, 2007
|
Share

Del.icio.us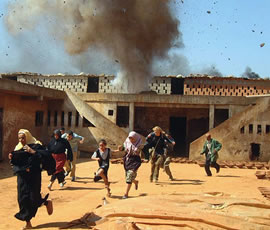 The film 'The Situation' showed the war's effect on
Iraqi civilians
A filmmaker has no way of knowing in advance how much his film will or will not affect his audiences.
For example, I've been sitting on the fence on the Iraq war for many months. I didn't like the invasion or the way we've prosecuted the war or tried to remake the Middle East, but I was wary of the potential chaos if we precipitously pulled out.
Then I saw Philip Haas's film The Situation at the Honolulu Academy of Arts theater. That did it for me.
It made me realize that we've trapped many innocent people between the demands of the insurgents and the inept government, just as we trapped innocents between demands of the Viet Cong and an inept government in an earlier war.
We are making ordinary Iraqi families choose between keeping their mouths shut and being marked by us as unfriendlies, or helping us and the Iraqi government and being marked by insurgents as traitors.
It's not fair and it's not right because those innocents did not invite us in, and the polls seem to say most do not want us there.
This war is lost.
I'm off the fence. I no longer want a timetable. I want us out, now, just as the Russians quickly got out of Afghanistan when everything there went to hell for them.
Does that put the whole area at peril? Yep, but there's no one to blame but ourselves. Will there be later bloodshed? Yep. Again, our doing. Can't we just stay? Sure. How many more American soldiers and Marines do you want to bury or bring home minus legs, arms and with brain damage?

King George Bush via photoshop
Why shouldn't the International War Crimes Tribunal indict George Bush when he steps down in January of 2009?
The potential charges: facilitating the "rendition" of suspected un-charged enemies to other countries where they may have been tortured for confessions or may have died.
Another potential charge: invading Iraq and causing the death of civilians there without a green light from the United Nations and without the U.S. being attacked or imminently threatened by that country's people.
The tribunal hauled in Milosevic of Serbia and human rights charter violators from Rwanda - I guess because they have small-fry armies and no economic power. Imagine the uproar (and loss of funding) if the U.N. tried to arrest and try Bush.
But why should big and mighty be immune?
I've always felt that had we, rather than the Russians, been the buddies of Serbia, and had the Serbs taken Kosovo without NATO intervention, there would have been no war crimes prosecution of Milosevic. We're the friends of the Ethiopians for the moment and you don't see the U.N. getting huhu about Ethiopia's army entering Somalia and killing Somalis, do you?
My well-considered observation is that George Bush saying what happens to suspected enemies we nab is a state secret that cannot be made public is no better than what the East German security agency Stasi or Stalin's KGB did.
Historians will have a field day - as will filmmakers - writing and scripting this disastrous moment in America's history.
Most Recent Comment(s):