Handicapping The 2010 Races

By
.(JavaScript must be enabled to view this email address)
Wednesday - April 01, 2009
|
Share

Del.icio.us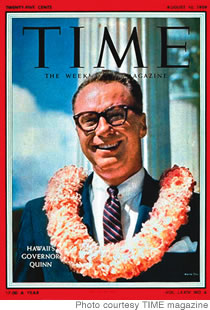 Gov. Bill Quinn: The only Hawaii politico to make TIME's
Had there been a MidWeek in 1959 and had I been a columnist, I'd have picked Jack Burns to beat Bill Quinn for governor and make TIME magazine's cover as Hawaii's first governor (wrong) and the folksy songster Quinn to beat Old Stone Face Burns in their rematch in 1962 (wrong.)
So I'm obviously not a seer. But I'm persistent and cheeky, and here's my handicapping of 2010 races already under way.
I'm like most nonparty-member folks. I go with my gut. I get a feeling what a would-be office holder is likely to do that dovetails with my own politics. I like to think I vote on issues, but I know that emotion is the coach sending me batting signals.
We've got some clearly defined candidates on deck. Linda Lingle, Mufi Hannemann, Neil Abercrombie, Duke Aiona, Charles Djou and Colleen Hanabusa are on my A-list.
Aiona and Abercrombie are going for governor, and my read this week is that Hannemann is, too. Abercrombie's a tough choice. Does Hawaii want a 72-years-oldat-start-of-term governor? Also, he has to leave his congressional seniority to run for Washington Place. Should he lose in the primary, he's out of politics and joins the retirees.
Does Hannemann really want to be governor? I did suspect his goal is Washington and that the Democrats would want the relatively youthful mayor as a safe Congress seat for years to come. But his people are advising him otherwise because his local approval numbers are high. He also wants to be around to push train transit as a legacy.
Mufi and Neil bring some baggage with them. Both tend to have higher than average ratings for perceived arrogance.
Hannemann has toned it down and did a masterful State of the City address this year.
Abercrombie? I was at a Ben Cayetano book signing. Abercrombie came in late. I felt someone pushing me aside and shoving up front. It was Neil, positioning himself adjacent to Cayetano. Gotta have that face time.
It would be a damaging primary. Think Ben Cayetano and Jeremy Harris until Sen. Dan Inouye met with them in a hotel room and said "sort this out." Harris dropped out.
Colleen Hanabusa, the state Senate president, seems to have both governor and Congress ambitions, but there's that civil unions brouhaha, and her being the spark plug behind dumping former attorneys generals Margery Bronster and Earl Anzai, plus that $75 million tax credit (never used) for an aquarium for her friend Jeff Stone at Ko Olina Resort.
Charles Djou? I don't see Hawaii voters electing a small-time Republican to bring home the bacon from a Democratic federal government. Plus, his People's Defender costume seems to be wearing a bit thin.
Duke Aiona I rate as not even possibly electable at this point. The GOP would do better to enlist prosecutor Peter Carlisle.
Gov. Lingle in 2010: She has been a disappointment to even the local GOP - no large footprint and hasn't roused our passions. You can't use eight mediocre years as governor as a winning resume for a Washington job. Quit to run before her term is up and economy unrecovered? Not likely.
I'd guess Abercrombie will resign early, his seat will go to an appointed Democrat, and that person will have the leg up for 2010.
His fans will notice I've not included Ed Case. As MidWeek was going to press last Friday, his Website announced that he would declare on Saturday. But out of office is out of the voters'minds. He should have stayed in Congress. Bucking the party to attempt ousting a well-liked incumbent was a bad move.
He could switch to the GOP and run for governor.
Now that would be a helluva race for me to handicap!
Most Recent Comment(s):