Hawaii, Military Need Each Other

By
.(JavaScript must be enabled to view this email address)
Wednesday - June 28, 2006
|
Share

Del.icio.us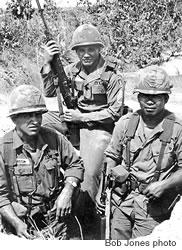 Three Hawaii 25th Inf. Div.
sergeants near Trang Bang
Vietnam, 1966
The 25th Light Infantry Division of Schofield Barracks will be honored Friday at the Hawaii Foodbank's annual Patriot dinner.
I wish they'd picked some other name. "Patriot" is now tainted by the Patriot Act - so controversial that three of our Washington delegates (Inouye, Akaka, Abercrombie) voted vehemently against it and only one (Case) voted aye.
Anyway, to Maj. Gen. Randy Mixon and your 3rd Brigade, best of luck in west Iraq, your coming assignment.
I have a long journalism history with the 25th and I'm in synch with its need to train in Makua Valley, up-mountain Kahuku and Pohakuloa.
Some of my friends press me to explain why we need such a huge military footprint - about 15 percent of Oahu now that Barbers Point is back in state hands.
Yes, the Army, Navy, Marines and Air Force have a lot of our land under their control, but except for Pearl Harbor, Kaneohe, Hickam and Schofield Barracks it's marginal land only claimed recently in a Hawaiian cultural renaissance. Makua, the Koolaus, Pohakuloa and Barking Sands are political or spiritual disputes, much as Kahoolawe was.
But that's fair game for discussion.
Nearly one Hawaii worker in four is an employee in some fashion of the military. Military personnel and their dependents together represent about 10 percent of Hawaii's population.
It all goes back to the American need for Pearl Harbor as a coaling station in the Pacific when we were expanding our empire in the late 19th century. Empire is the key word. Opponents of the military here still see the Army, Navy, Marines and Air Force as elements of empire, and I guess they are. They helped America take land from other people and keep it.
I tend to separate history and today. I'm not much of a fan of thought that we can restore Indians or Eskimos or Hawaiians to the status quo ante.
We can do better by them, but we cannot reverse time.
Pearl Harbor is the home of our forward Pacific Fleet - surface ships and submarines - lynch-pin in our war strategy. Yes, war. That's the reality. We plan for war. You won't bump the Navy from Pearl.
Same with Hickam Air Force Base and its Pacific Air Forces command. It's our ocean skipping-stone along with Guam. It will be here unless peace breaks out across Asia.
Schofield and Kaneohe are always negotiable. There is no "must" for either one. The Army and the Marines could move to the West Coast with no loss of strike strategy.
But we'd go as money-challenged on Oahu as Tonga or American Samoa if they left. That's the reality.
The military presence here has some strategic essence, but with new weaponry the essence is reduced and we have many of the bases here simply because they are dependable economic engines. Tourists come and go with the travel climate. Soldiers and sailors spend money every day. Repairs of ships and submarines pay local salaries. Base construction is a critical money injector.
You want the military out - out of Waipau, out of Wahiawa, out of Kaneohe?
We could move the 25th Division to Washington State with no strategic problem ... the Kaneohe Marines to Camp Pendleton or Twentynine Palms ... 80 percent of our Air Force anywhere in the West ... submarines to Guam ... naval Intelligence to Miramar ... Pacific Command to San Diego ... Pacific Fleet and 3rd Fleet to Alaska or Bremerton ... Pearl Harbor Shipyard work to Long Beach.
All that makes consolidation sense.
If you don't need a job here.

Re: Lt. Ehren Watada: Popular author Lee Child says about the Army in his novel The Enemy:
"The only practical way to challenge orders is to disobey them and then take your chances with the resulting court martial, which would inevitably become a mano a mano struggle with a guy way higher on the food chain, in front of a presiding judge who was well aware of the Army's preference that orders should never be questioned."

C&C Pasta in Kaimuki (MidWeek, June 7) says it charges $5 per table for BYOB, not $5 per glass. We must have misunderstood our waiter.
Most Recent Comment(s):