High Hopes For Hawaii's Shinseki

By
.(JavaScript must be enabled to view this email address)
Wednesday - February 11, 2009
|
Share

Del.icio.us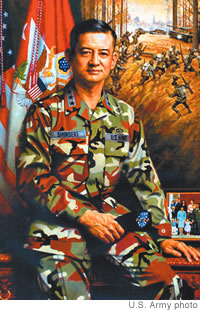 Veterans Affairs secretary Gen. Eric Shinseki
It's our nature to cheer for Hawaii people who gain the main stage of American government.
We now have a Punahou grad president, Punahou grad Rear Adm. Tom Copeman III running the Guantanamo prison, and Kauai's retired Gen. Eric Shinseki as Veterans Affairs secretary.
Barack Obama's pass-or-fail grade is going to take several years to shake out. Copeman should be seeking a new job in a year if we close down Gitmo.
Shinseki at VA won't get any breaks. Either he steps up right away to end the embarrassment that's our handling of veterans' needs, or he jumps into a bunker and says "I can't take all the incoming fire from Congress, disabled vets and the press."
I'm hoping he'll do us proud by shaking up a horrible bureaucracy. But you never know. I'm thinking of recent others in that job: Edward Derwinski, Togo West Jr., Anthony Principi, Robert Nicholson, James Peake. Not one a spark plug. All went with the flow.
We've ended up with a backlog of 400,000 benefits claims, lost records, crappy hospital care and we basically write off those back from from Iraq and Afghanistan. Sorry, we say, no money.
"Ric" Shinseki is a guy way beyond the usual mold of the make-no-waves military careerist -son of a hairdresser and a garage mechanic on Kauai, two tours in Vietnam, loss of part of a foot, went from second lieutenant to Army Chief of Staff. He's the one who advised we'd need "several thousand" troops to pacify Iraq. He wasn't fired for that - as many Bush critics claim. It's unusual for an Army secretary to serve only one term. But it was leaked publicly long before his term was up that he'd not be reappointed, and so he served out as a lame duck everybody could ignore.
I knew the man under combat conditions in Vietnam. He was a scrappy first lieutenant then, fresh from having his clothes shredded by a mortar round that scoured his shoulder and back. He refused to take a disability discharge later when he lost half of a foot. He went on to four stars.
So he's got the moxie. He's got the background. I'm still unsure if he isn't really a Republican at heart. It probably doesn't matter in this job and this administration.
He has said the waiting period on benefit claims - sometimes six months or longer - is unacceptable. "We must transform the VA into a 21st-century organization. It will be people-centric, results-driven and forward-looking."
Shinseki is on record promising to push for expanding benefits to veterans who have been excluded because they made more than $30,000 annually. (Hey, that's me! Tripler turned me down for medical coverage for that reason.)
He has the enthusiastic backing of U.S. Sens. Inouye and Akaka. But there are insiders who keep chopping back the benefits.
The Pentagon has reduced injury benefits for those not wounded while actually fighting. So, for example, Marine Cpl. James Dixon and Army Sgt. Lori Meshell are not entitled to full coverage for their Iraq wounds, because Dixon's was from a roadside bomb and Meshell's was while diving for cover during a mortar attack. The Pentagon says that's not actual fighting.
"I will focus on these issues and the development of a credible and adequate 2010 budget request during my first 90 days in office," Shinseki says.
He has resigned from the boards of Honeywell International, which holds billions in contracts with the U.S. Army, and Ducommun, which services defense contractors. He also will stop doing business at his consulting company, Pegasus Associates, and will resign positions at Guardian Life Insurance Co., DC Capital Partners and First Hawaiian Bank.
There's a story making the rounds about a party at his quarters when he was chief of staff, and a woman mentioned to him that her father was a Vietnam veteran. Shinseki's said to have run upstairs, retrieved a commemorative coin and asked the woman to give it to her father and thank him for his military service.
My story about him is a bit different. I'd chased him a long time for a profile interview when he made chief of staff. He always said "I don't want stories done about me. I want stories to be about the U.S. Army."
Most Recent Comment(s):