How To Deal With Sex Offenders?

By
.(JavaScript must be enabled to view this email address)
Wednesday - March 10, 2010
|
Share

Del.icio.us
I get so mad each time a child or a woman is killed by a repeat sex offender that I could chew and swallow nails!
The latest victim: a 17-year-old girl killed and buried in a shallow park in San Diego County. The suspect: a man, a released sex offender also suspected in the attack on a woman in another park.
But what to do? The experts are split among therapy, medication, brain surgery and castration. Many of you want them locked away forever. I'll try to be fair in parsing those remedies but, boy, am I getting fed up!
We've got studies up the wazoo. Two of the best and opposite, I think, are by Drs. Linda Grossman, Brian Martis and Chris Fichtner (all highly qualified in the topic), and respected Drs. Barry Maletzky and Kevin McGovern of the Sexual Abuse Clinic of Portland. The Grossman team concludes that going with treatment instead of imprisonment isn't borne out by current research results. They say: "It is a common view that no treatments work for disorders involving sexual aggression."
I suspect most of you agree. Am I right?
One study estimates that by the time rapists enter treatment, they have assaulted seven victims, and non-incestuous pedophiles who molest boys have committed an average of 282 offenses against 150 victims. Other research says that more than half of all women and one-fifth of all men will be sexually assaulted at some point. That's pretty scary! It's estimated that at least 90 percent of sexual assaults never get reported to police and only 1 percent of sex offenders are ever arrested. More scary!
About 20 percent of child molesters are re-convicted within 10 years of their release from prison. Scared you yet?
So, some experts recommend castration or removing part of the hypothalamus in the brain to cut off male hormones (males being the main offenders). But neither has been shown 100 percent effective.
Medication is big, mainly the use of what are called anti-androgens to reduce testosterone - that cuts libido and erections.
Then there's aversion therapy. You tell your therapist about a deviant act and you get an electric shock. But the Grossman team says the more deviant the patient - meaning he needs to be locked away - the less likely this treatment is to succeed.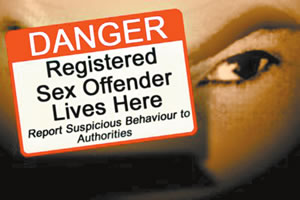 Lock 'em up or counseling?
On the other side, Drs. Barry Maletzky and Kevin McGovern of the Sexual Abuse Clinic of Portland say that, with behavioral treatment of 3,700 pedophiles, there was no rearrest, and following men for 17 years after treatment showed success for 95 percent of homosexual and 86 percent of heterosexual pedophiles (child molesters). Rapists have a 73 percent success rate.
They say "the data gives strong indication that treatment is effective for a great many offenders."
I just don't know. I'm sure MidWeek will hear a lot of conflicting input from people who claim to know. I'm not sure they really know. I suspect they have opinions with little determinate data.
Are the molestations and killings by repeat offenders an aberration, or a signal that short incarcerations and treatment (what there is) are failing?
How would I feel if a known sex offender lived on my street? I can't say, because I don't know of one from the state Web site.
This is not a small, inconsequential matter. Hardly a week goes by without some sex assault in the newspaper - and those are only the ones reported to police.
I'm not a lock-'em-all-up guy by nature, but I'm getting less comfortable with 'em on the loose.
Most Recent Comment(s):